Podcast: Play in new window | Download | Embed
Subscribe: RSS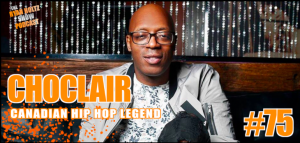 LET'S RIDE!!!! The juno award winning hip hop legend and Canadian recording artist Choclair drops by the show to chop it up! I mean, to say this was not nostalgic, does not even do it justice. I remember listening to Choclair all the way back in 1999. In many ways, he created music that became the soundtrack of many Canadians lives. He is a pioneer and legend in the Canadian hip hop culture. Choclair and others such as Kardinal to name a few paved the way for new artists like Drake and Tory Lanez to pop!
Enjoyed this episode? Please leave a Review on iTunes here.
Choclair and I chopped it up about everything from his early days in music, all the way to him being an introvert in school. We also talked about mental health and how to find your creative passion.
Reach out to Choclair here.
Choclair's BIO:
Kareem Blake, (born March 27, 1975) better known by his stage name Choclair, is a Canadian rapper. He helped develop Canadian hip hop in the late 1990s, as a member of the Circle.
Blake, of Jamaican descent, was born in Scarborough, Ontario, in east Toronto. Starting at the age of 11, he followed in his older brother's footsteps, and decided to become a rapper. In 1995, he released his debut single, "Twenty One Years", on his own independent label, Knee Deep Records. In 1997, he released the EP, What It Takes, which was accompanied by a music video featuring Jully Black. By 1998 Choclair had released eleven records, including the first international releases for Saukrates, Kardinal Offishall, Jully Black, Solitair, Marvel, and Tara Chase from Toronto's music scene.
Choclair, with the Rascalz, contributed to the hip hop song "Northern Touch", which received two Juno Awards and a MuchMusic Video Award, and achieved lasting popularity among Canadian hip hop fans and has been labelled by critics as a "hiphop anthem".[1]
Choclair then expanded his team and joined Virgin Music Canada in 1998. In 1999, he signed with Priority Records, and released his debut album Ice Cold, produced by Saukrates.[2][3] The album was certified gold in Canada (50,000 copies)[4][5] and spawned the hit single "Let's Ride", produced by Kardinal Offishall. Let's Ride reached #38 on the Canadian RPM Singles Chart.[6] That year Choclair performed at the Molson Amphitheatre in Toronto, opening for American singer Lauryn Hill.
→→→ CONNECT WITH ME ON SOCIAL MEDIA: ←←←
▶︎ INSTAGRAM | https://www.instagram.com/RyanHoltz1
▶︎ TWITTER | https://twitter.com/ryanholtz1
▶︎ SNAPCHAT | https://snapchat.com/add/ryanholtz1
▶︎ LINKEDIN | https://www.linkedin.com/in/rholtz
▶︎ FACEBOOK | https://www.facebook.com/RyanPHoltz/
▶︎ ITUNES | https://itunes.apple.com/ca/podcast/the-ryan-holtz-show/id1167195878?mt=2
▶︎ WEBSITE | https://ryanholtz.ca/