Podcast: Play in new window | Download | Embed
Subscribe: RSS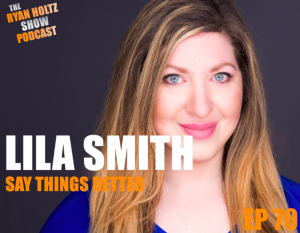 Lila Smith, founder of the "Say Things Better" method drops by the show to really help us get out of our heads and use our knowledge, passion and individuality to find our communication partners and truly understand what they want. Whether we are in business, trying to find that new gig or simply just trying to communicate with our loved ones, we all ultimately try and say things better. Communication is the holy grail of all things in life. Actors, actresses and world renowned speakers do a great job of trying to make you feel something through spoken word. I wanted to have Lila on the show as her and I have been connected through LinkedIn for almost a year and to say I am a fan of her as a person and her work would be a huge understatement. Enjoy this episode as it is jam packed with value for YOU. It is all about YOU.
Enjoyed this episode? Please leave a Review on iTunes here.
Lila's Bio:
Lila Smith used to think that being a professional actress would be the best way to use her love of storytelling to make a difference that mattered in the world. After spending 20 years training and 10 years professionally performing to great acclaim in NYC and around the US, she still felt there was more. More connection, more honesty, and more impact to be had- offstage, in real life.
That's why Lila created Say Things Better, a 5-Step method of Intentional Communication based on the best tools she learned in theater. She now travels around the world helping people and brands to connect to their ideal Communication Partners.
Want to sponsor an episode? Reach out to us here.
*** CONNECT WITH ME ON SOCIAL MEDIA ***
Instagram | https://www.instagram.com/RyanHoltz1
Instagram | https://www.instagram.com/ryanholtzshowpodcast/
Twitter | https://twitter.com/ryanholtz1
Snapchat | https://snapchat.com/add/ryanholtz1
LinkedIn | https://www.linkedin.com/in/rholtz
Facebook | https://www.facebook.com/TheRyanHoltzShowPodcast/
iTunes | https://itunes.apple.com/ca/podcast/the-ryan-holtz-show/id1167195878?mt=2