Podcast: Play in new window | Download | Embed
Subscribe: RSS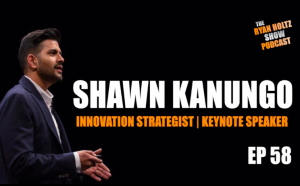 In this episode of The Ryan Holtz Show, I chat with Shawn Kanungo, the famous Keynote Speaker and Disruption strategist! Shawn has been on my radar forever and it is such an honor and pleasure to sit down with him. Shawn has carved out his own path in the corporate world and speaking world by being curious, asking the tough questions and helping big businesses become quick and lean when finding new ways to be valuable to their clients and customers. This episode is truly a banger and we shot it LIVE at The Enbrdige Tower in Downtown Edmonton. Thank you! Enjoy this episode and drop your thoughts in the comments and on social media!
Shawn's Bio:
Shawn Kanungo is a disruption strategist. He has been recognized nationally and globally for his work in the innovation space after 12 years working at Deloitte. Shawn's mandate at the firm was to help corporate executives to better understand and plan for the opportunities and threats associated with disruptive innovation.
Shawn is a practitioner who has worked hand-to-hand with hundreds of organizations on their journey to digital transformation. He has adopted the concepts of voice technology, behavioural economics, user-centered design, crowdsourcing, artificial intelligence, drones and film to help create world class client experiences.
Shawn is a Partner with Queen & Rook, helping organizations adopt exponential technologies and move to the digital age. He is also the Founder & CEO of Silver, a technology company focused on creating the next-generation of voice products and services for businesses.
His work and interviews have been featured in Forbes, The Globe & Mail, The Guardian, CBC and CTV. In 2016, he was recognized as Avenue Magazine's Top 40 Under 40. In 2018, he was named to Inc's 100 Most Innovative Leadership Speakers.
*** CONNECT WITH ME ON SOCIAL MEDIA ***
Instagram | https://www.instagram.com/RyanHoltz1
Instagram | https://www.instagram.com/ryanholtzshowpodcast/
Twitter | https://twitter.com/ryanholtz1
Snapchat | https://snapchat.com/add/ryanholtz1
LinkedIn | https://www.linkedin.com/in/rholtz
Facebook | https://www.facebook.com/TheRyanHoltzShowPodcast/
iTunes | https://itunes.apple.com/ca/podcast/the-ryan-holtz-show/id1167195878?mt=2