Podcast: Play in new window | Download | Embed
Subscribe: RSS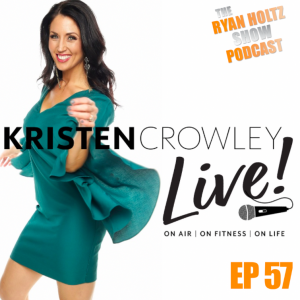 In this episode of The Ryan Holtz Show, the lovely and fierce Kristen Crowley joins us to chat life, being a News Anchor and what it takes to overcome adversity. Kristen is a special human who has the personality, the brains and takes pride in her appearance, but does not let that define who she is. Growing up on a farm to being bullied, all the way to having two high risk pregnancies, Kristen defies the odds in all ways.
I personally crossed paths with Kristen via LinkedIn and we began to have really intellectual and thought provoking conversations. What really stood out was how engaged she was and detailed when talking. This podcast is a heavy hitter and touches on all aspects of life, enjoy the nuggets!
Show Notes: (Raw and Uncensored)
FITNESS – I can talk about how fitness became more of a passion after two high risk pregnancies and I got a 6 pack for the first time in my life (nutrition, weight training, debunking myths) and why I am doing the food stuff now.
MOM LIFE – Managing time, getting kids to eat healthy, food education.
WORK ETHIC – How I can manage all of the above and my tips to get it all done (and how often I fail! LOL)
OVERCOMING – why I pushed myself out of my comfort zone and took a TV job. Also why I give back so much and try to make other people feel included.
Kristen's Bio:
Kristen Crowley is a TV personality, news anchor, military wife, mother of two that has a unstoppable curiosity for health and fitness. Growing up on a horse farm, hard work was the norm. Kristen set out to learn and conquer several career paths from Fashion Merchandising to the restaurant business taking her from her home state of Michigan to Virginia. That drive led her to a career in TV news and over a decade later she is using that notoriety to make a difference for others. After two high risk pregnancies and a slew of injuries and food sensitivities KC set out to learn the easiest ways to live a healthier life in a simple but effective way. She launched Kristen Crowley Live on YouTube and a new blog www.kristencrowley.com to help share free recipes, workouts and to help connect people to the experts that make a difference. No hype, No BS, just solid information you can use. Join Kristen on her journey as she continues to learn, stay sane working crazy hours and manage her own self-proclaimed zoo at home!
Reach out to Kristen here.