Podcast: Play in new window | Download | Embed
Subscribe: RSS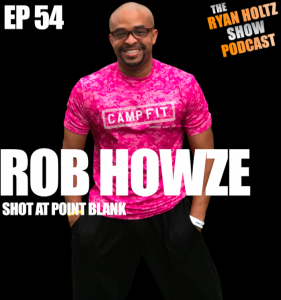 In this episode of The Ryan Holtz Show Podcast I chat with Rob Howze about how getting shot at point blank changed his whole trajectory on life and how he changed his life to the better. Rob is someone exudes a different and boisterous kind of energy that really shows. Rob has came up with a formula that he lives by to ultimately have him live his best life on the daily. There is much value for you to be had on this podcast and truthfully, no matter where you are at in your life…..relax….press play and be ready to laugh, cry and pick out some nuggets that Rob has generously provided. As always, thank you for supporting and listening to the show. We have heard many responses from you of pure value. We could not do this without you! Enjoy!
Show Notes:
3 ingredient formula for total life fulfillment:
-Self Reflection
-Course Correction
-Humility
-Getting shot at point blank range
-Quitting drugs and importance of his morning routine
-Some pure humour and laughs
-Seth Godin's Purple Cow theory
Rob Hows is a personal trainer, licensed minister, public speaker and author with 20 plus years of business development. Rob is someone who has literally made a great life with a very specific view point.
Contact Rob here.
*** CONNECT WITH ME ON SOCIAL MEDIA ***
Instagram | https://www.instagram.com/RyanHoltz1
Instagram | https://www.instagram.com/ryanholtzshowpodcast/
Twitter | https://twitter.com/ryanholtz1
Snapchat | https://snapchat.com/add/ryanholtz1
LinkedIn | https://www.linkedin.com/in/rholtz
Facebook | https://www.facebook.com/TheRyanHoltzShowPodcast/
iTunes | https://itunes.apple.com/ca/podcast/the-ryan-holtz-show/id1167195878?mt=2