Podcast: Play in new window | Download | Embed
Subscribe: RSS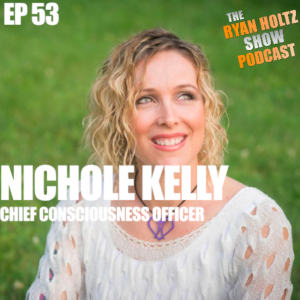 In this episode of The Ryan Holtz Show, Nichole Kelly drops by to chop it up about how mission-driven companies are starting to calculate ROI (Return On Investment). In the new age of marketing and adoption of people-first companies, the way we calculate ROI is changing and many companies are still trying to figure out and maneuver around this. I had met Nichole about 6 years ago and she came and spoke at a conference, and went way deep given that the United States was way ahead when it came to digital marketing. Nichole is a fantastic speaker and extremely knowledgeable and I think you can get great value from listening to her. She is amazing! Sit back, grab a nice little drink and get ready to have your mind massaged. Enjoy!
Shownotes:
1. ROI? What is it? How do we value it?
2. Content, when should we keep it? when should we let it go?
3. Moral energy inside marketing and campaigns
4. Brands taking a role in building love amongst humanity
5. Brands having an astute understanding of social subjects they are stepping into
6. Toxic Masculinity and social campaigns like Colin Kaepernick and Gillette
7. Responsibility of marketers
Nichole's Bio
Nichole Kelly is the Chief Consciousness Officer at the Conscious Marketing Institute and co-host of the Conscious Marketing Podcast. She is best known for her book How to Measure Social Media and setting industry standards for how return on investment (ROI) from digital marketing is measured and valued within organizations. After experiencing 3 minor strokes from the hamster-wheel of success and chasing profit, she is back to set the record straight: ROI is NOT the bottom line. Now she consults with companies to unlock their marketing team's full potential and empower them to achieve ROI Cubed; a positive alignment of Return on Investment; Intention and Impact.
Check Nichole out here.
*** CONNECT WITH ME ON SOCIAL MEDIA ***
Instagram | https://www.instagram.com/RyanHoltz1
Instagram | https://www.instagram.com/ryanholtzshowpodcast/
Twitter | https://twitter.com/ryanholtz1
Snapchat | https://snapchat.com/add/ryanholtz1
LinkedIn | https://www.linkedin.com/in/rholtz
Facebook | https://www.facebook.com/TheRyanHoltzShowPodcast/
iTunes | https://itunes.apple.com/ca/podcast/the-ryan-holtz-show/id1167195878?mt=2