Podcast: Play in new window | Download | Embed
Subscribe: RSS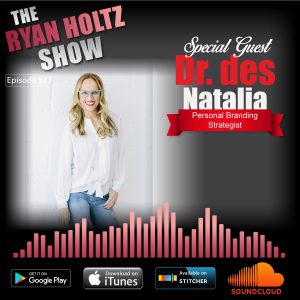 Who makes more money? Smart people….or people who know how to market themselves better? My next guest Dr. des. Natalia Wiechowski drops by all the way from Dubai to chat the importance of personal branding whether you have your own business or are working at a job.
Show notes:
1. Figure out what your personal brand is by getting a journal and write down things that excited you for at least 10 minutes per day and this will help show you a pattern of what you are good at.
2. Enhance your personal brand by going out and reading 5 books and implement one idea from each book. Start small and be consistent.
3. Unlearn almost everything you have learned if you want to make it. Change your thought patterns.(16:03)
4. Is our current education system letting us down given the rapid impact that the internet has had on us.
5. Go out and get work experience and gain practical experience in conjunction with your theory.
6. How to get out there and learn active listening and soft skills whether it be a blog, vlog or podcast.
7. Self awareness is key. Personal branding is not about having a gimmick, but truly trying to showcase yourself in a favourable way.
8. How to successfully vet a great mentor by also offering value to said person. Make it a fair exchange. A win win situation.
9. How to sell BRAIN and not just appearance. (31:57)
10. How to have an amazing LinkedIn profile that generates leads and builds awareness.
11. 5 Ways To Use LinkedIn. LinkedIn is a platform for community, branding, educating, learning and networking. (41:00)
Bio:
Dr. des. Natalia Wiechowski is a Dubai based, award-winning Personal Branding Strategist and international Keynote Speaker who radically changed her life and career after a self-imposed sabbatical to follow her
passion: Helping people to shine.
13+ years of experience in human societies and social relationships, made the German Dr. of Philosophy and Social scientist come to the conclusion that self-marketing is a prerequisite to design a dream
life(style) and career of purpose.
That is why the certified digital marketing professional encourages people to portray themselves as personal brands, to stand out from the grey crowd, to present themselves in an impressive way and to build an authentic, professional (online) image.
The "LinkedIn Marketing Unicorn" (Inc.) worked with brands like SAP, Bosch, Hult International Business School, Emaar, 24SATA, Westford University College and has been featured in Forbes, Entrepreneur, HR
Revolution ME, Khaleej Times, Cosmopolitan and more.
As a storyteller and content creator Dr. Natalia scored two viral posts on LinkedIn in 2016, which allowed her to build an international online community of over 146,000 followers. No wonder why people call her the
ME's leading Edutainer.
Reach out to Dr Natalia here.
*** CONNECT WITH ME ON SOCIAL MEDIA ***
Instagram | https://www.instagram.com/RyanHoltz1
Instagram | https://www.instagram.com/ryanholtzshowpodcast/
Twitter | https://twitter.com/ryanholtz1
Snapchat | https://snapchat.com/add/ryanholtz1
LinkedIn | https://www.linkedin.com/in/rholtz
Facebook | https://www.facebook.com/TheRyanHoltzShowPodcast/