Podcast: Play in new window | Download | Embed
Subscribe: RSS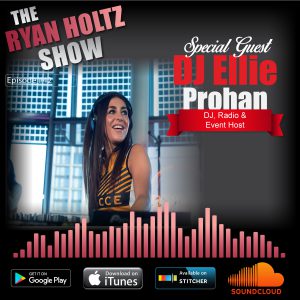 London, England's LGBTQI Prowess, DJ Ellie Prohan joins us for one heck of a podcast! I am humbled, grateful and excited to share this interview with all of you as it seriously has a little bit of something for everyone. Ellie and I get serious, share laughs and have an amazing impactful conversation. I have highlighted some of the most amazing points below.
Ellie's BIO:
Ellie Prohan is a Persian LGBTQI prowess in the form of Radio Broadcaster, Events Host and International R&B and Hip-hop DJ. She can currently be heard on The Beat London 103.6fm which notably won Best Radio Award at the Urban Music Awards interviewing the likes of Shaggy, Black Street, Mya and Wocka Flocka to name a few.Her most recent outstanding accolade was playing a Boiler Room partnership event for the Mayor of London's; Sounds Like London campaign. Playing alongside A.G, Jamz Supernova and Ray BLK her personal set saw over 60,000 views.
Ellie decided to pursue her love for music and embarked on an impressive journey teaching herself to DJ, subsequently the last 4 years have seen her gracing the decks of some of London's top nights including The Jazz Cafe, Ace Hotel, 100 Wardour Street and Soho House apartments at the Hoxton Holborn. Ellie has also crossed the pond to entertain at Soho House New York, as well as festivals such as Kopparberg Urban Forest Festival,Lovebox, Bestival, Hospital Club, Strawberries and Creem, Notting Hill Carnival and Wireless Festival.
If that wasn't enough to keep herself busy Ellie announced and hosted GLo an inclusive yet exclusive series of nights for the LGBTQI+ community. Hosted by The Curtain Shoreditch it's an event where guests are not bound by stereotypes of their sexuality. Her launch saw Lady Leshurr perform an energetic set alongside some of the hottest DJ's on the scene.
Important Time Stamped Show Notes:
3:58 Ellie talks about how she was influenced by American Hip Hop like Big Pun, Puff Daddy, Faith Evans and 2pac
5:22 What are the major differences between UK Hip Hop and American Hip Hop?
8:59 Ellie talks about how humble beginnings shaped her success and ambition
13:21 What struggles do you face being a female DJ in a male dominated industry?
17:33 Social media has not made the world worse, it has simply highlighted who people really are. If you are an asshole, then it will amplify that.
19:08 Ellie talks about how she navigates through self-suppression and combats the stereotypes
21:09 Ellie chats mental health and #MeToo movement and impacts of social media
24:10 Ellie talks about why HONESTY is the most important to her
30:59 Ellie chats why people show their "always happy" life on Instagram and how it helps them make money
33:46 How do you prepare for a guest interview and what has been one of your best interviews?
38:43 Ellie talks about how Reggie Yates inspires some of her interview tactics and perspective
49:09 Actionable steps to going after what you want
51:14 We Chat Salvatore Ganacci's viral DJ set at Tomorrowland
59:45 Ellie chats the impact of being able to do a boiler room set and the aftermath
1:11:43 Being self aware and trusting your gut
1:12:01 Ellie opens up about her sexuality and LGBTQI
Connect with Ellie here.
As always, please show us some love and review on all platforms in which you can digest podcasts. We love and appreciate you!
Join Our Facebook Community!
Facebook Group | https://www.facebook.com/groups/2051291358485834/
*** CONNECT WITH ME ON SOCIAL MEDIA ***
Instagram | https://www.instagram.com/RyanHoltz1
Instagram | https://www.instagram.com/ryanholtzshowpodcast/
Twitter | https://twitter.com/ryanholtz1
Snapchat | https://snapchat.com/add/ryanholtz1
LinkedIn | https://www.linkedin.com/in/rholtz
Facebook | https://www.facebook.com/TheRyanHoltzShowPodcast/