Podcast: Play in new window | Download | Embed
Subscribe: RSS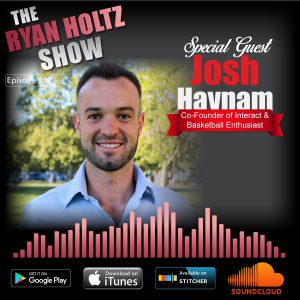 In this episode of The Ryan Holtz Show Podcast, I chat with San Francisco based entrepreneur and start up founder, Josh Haynam! Josh emailed me cold as ice and pitched an idea as to why he should come on the podcast and bring value to you beautiful people and listeners! Normally I get so annoyed with cold calls and pitches, but Josh's tactic had me intrigued and ultimately just had to have him on!
Josh Hayman is co-founder of Interact, a place for creating fun quizzes that also generate leads. Josh regularly writes about lead generation and conversion rate optimization (CRO). He also enjoys a good game of pickup basketball. Josh managed to interview the founder of Wikipedia by simply sending an email asking for help. This may seem simple, but it is not, there is a huge part to a carefully crafyed pitch that does not annoy the person you are trying to collaborate with.
Shownotes & Talking Points:
1. Tips and tricks of researching a specific person prior to pitching your idea to them
2. Daily habits that will help you become an expert at anything
3. Why most people let fear overtake them
4. How to feed a time starved culture that is simply trying to get more done for the least amount of time also known as efficiency
5. Why Josh loves doing podcasts and what his critique of interviewers
6. How to become lazer focused on exactly what you want to become and expert on
7. The balance of trying to learn something but having a pattern interrupt to keep your mind nimble and a self induced reset
8. Maximizing right and left side of the brain to collectively get value from all aspects of your life
9. How to pitch
10. The importance of coaching and feedback when learning a new skill
11. My take on learning a new skill is read and study and then immediately execute on 90% of it, go forward and then scrape back all the little details
12. How to know when you are learning and studying too much and not enough execution or actionable steps to master the desire skill or goal
Reach out to Josh on LinkedIn here.
Join Our Facebook Community!
Facebook Group | https://www.facebook.com/groups/2051291358485834/
**** CONNECT WITH US ON SOCIAL MEDIA ****
Instagram | https://www.instagram.com/RyanHoltz1
Instagram | https://www.instagram.com/ryanholtzshowpodcast/
Twitter | https://twitter.com/ryanholtz1
Snapchat | https://snapchat.com/add/ryanholtz1
LinkedIn | https://www.linkedin.com/in/rholtz
Facebook | https://www.facebook.com/TheRyanHoltzShowPodcast/