Podcast: Play in new window | Download | Embed
Subscribe: RSS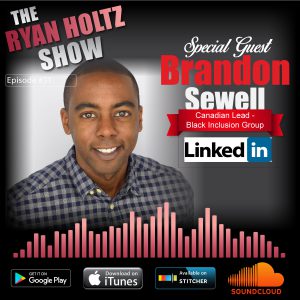 In this episode of The Ryan Holtz Show Podcast, I have the pleasure of bringing on Brandon Sewell who is The Canadian Lead for The Black Inlsuion Group also known as BIG.Brandon joined me via Skype from San Francisco but is based in Toronto, Ontario. Brandon's tenacity and tact when it comes to helping businesses with their talent acquisition along with trying to raise awareness on diversity and inclusion at LinkedIn makes for this as a complete value bomb!
Brandon is a Corporate Sales professional representing LinkedIn in the Mid-Market Enterprise space in Canada. Brandon works with my clients to help them achieve their talent management goals by leveraging the power of LinkedIn's 500M person network. Based out of Toronto, his experience has been primarily in Technology Sales & Recruitment. 7 months ago, he assumed the position of the Canadian lead for the Black Inclusion Group (BIG), an Employee Resource Group (ERG) at LinkedIn. Most recently, Brandon joined the Executive Committee that has put together the Black Professionals in Technology Network (BPTN) in Canada. Being someone who has grown up around all different walks of life, Brandon understands the benefits that a diverse environment can have on people.
Summary & Shownotes:
1. How Brandon losing his father to cancer (God rest his soul) shaped certain aspects of his character and tenacity
2. Why and how he managed to finesse his way into a job at LinkedIn
3. Why LinkedIn as a company is really focused on all aspects of diversity and inclusion
4. Why and what BIG (Black Inclusion group) is the goal and mandate that it has
5. Tips and tricks on how to make your LinkedIn professional profile stand out in a sea of clutter
6. What the day to day environment of LinkedIn is like to work daily in
7. How LinkedIn is focused on brand internally and externally
8. In today's world, we are all walking brands and not just employees even if we have a classic "job"
9. Technology and how it impacts corporate recruitment and training
We chatted about several things when it comes to LinkedIn and being a minority and how to chase and tactfully try to achieve your dreams. This is a great listen!
Connect with Brandon here.
Let me know what you think in the comments below!
Join Our Facebook Community!
Facebook Group | https://www.facebook.com/groups/2051291358485834/
**** CONNECT WITH US ON SOCIAL MEDIA ****
Instagram | https://www.instagram.com/RyanHoltz1
Instagram | https://www.instagram.com/ryanholtzshowpodcast/
Twitter | https://twitter.com/ryanholtz1
Snapchat | https://snapchat.com/add/ryanholtz1
LinkedIn | https://www.linkedin.com/in/rholtz
Facebook | https://www.facebook.com/TheRyanHoltzShowPodcast/