Podcast: Play in new window | Download | Embed
Subscribe: RSS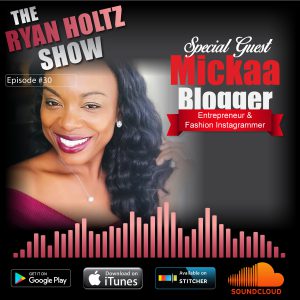 In this episode of The Ryan Holtz Show Podcast I sit down with online store, fashion blogger and Instagram engagement queen, Mickaa from Florida! Mickaa became an entrepreneur about 3 years ago, blogger 2 years, and brand ambassador about a year ago. Fashion is her passion, and she is loving the journey so far.
I wanted to have Mickaa as a guest as her Instagram is on fire, not because of how many followers she has, but the engagement she gets. When she posts, thousands of people respond to her! With Instagram becoming an absolute social media powerhouse and not just for fashion peeps, but also businesses trying to connect with their customers, having a great presence is key.
Below is a summary of some of the show notes and key points we chatted about.
Shownotes & Instagram Tips:
1. Going on everyday on Instagram and liking and engaging with people's pictures
2. How Mickaa's father gave her a piece of advice that basically said: "when you go into entrepreneurship, you will be alone"
3. Trying to post decent quality pictures on a consistent basis
4. Do not be discouraged if your business takes time to generate money and sales especially when it comes to ecommerce businesses
5. The power of having a morning ritual and planning each day to maximize time
6. Being patient and working hard to ensure your business has the best chance especially when starting out
Reach out to Mickaa on Instagram here.
We appreciate you listening and please rate and review our podcast on iTunes and Google Play! It helps us grow and we appreciate you!
Join Our Facebook Community!
Facebook Group | https://www.facebook.com/groups/2051291358485834/
**** CONNECT WITH US ON SOCIAL MEDIA ****
Instagram | https://www.instagram.com/RyanHoltz1
Instagram | https://www.instagram.com/ryanholtzshowpodcast/
Twitter | https://twitter.com/ryanholtz1
Snapchat | https://snapchat.com/add/ryanholtz1
LinkedIn | https://www.linkedin.com/in/rholtz
Facebook | https://www.facebook.com/TheRyanHoltzShowPodcast/