Podcast: Play in new window | Download | Embed
Subscribe: RSS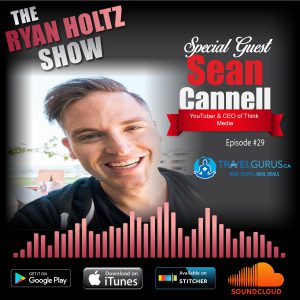 Sponsored by Travel Gurus. We are pleased to have our friends over at Travel Gurus offer up a $500 travel voucher to one of you lucky guests! Just comment below where you have been and where you would like to go and we will pick one lucky winner! See terms and conditions here. Book your next vacation with real people through Travel Gurus!
In this episode of The Ryan Holtz Show Podcast, I chat with YouTuber and Think Media Co-Founder, Sean Cannell who is based in Las Vegas. Sean Cannell teaches influencers how to go further faster with social media and video. With over 20 years of experience in online video, social media, and online marketing, Sean Cannell has become the go-to authority of building real influence with video.
Sean has built multiple successful brands online including seanTHiNKs, THiNK International, THiNK Media TV, and Clearvision Media, to over 350,000 subscribers with over 10 million video views. He has also worked with many top youtubers, authors, businesses, and non-profits helping them increase their influence and impact online.
Sean is a best-selling author and creator of Video Ranking Academy, an online course on how to grow your audience with ranked videos & turn views into income.
Sean's passion is to help influencers spread messages that matter with video and social media!
I wanted to have Sean on the show as his work with YouTube and overall exponential growth is amazing. Sean gives some hard fundamentals and principles that will actually help you achieve success on YouTube and your digital marketing strategy. I also wanted to chat with Sean because he is inspirational, motivational and humble. This episode will provide value in your life on a deeper level and help you to take a look at yourself and dig deep within to find your full self.
Below is a list of highlights and show notes that Sean and I surgically chatted about:
1. Sean's gratitude and working at Red Robins for 10 years
2. Why everyday is Christmas and how he gets ego checked on a daily basis
3. 3 C's: Cashflow, Connections, Content
4. Working your day job while working on your dream job
5. Video vs audio and what medium is the best, if any
6. What mediums work?
7. Audio is great in a time starved culture, but still thinks video is the number one
8. Video content is great as it shows sincerity and body language. Video and audio serve different purposes
9. The importance of having mentors and a close circle you can bounce ideas off of
10. Stages of platforming: traction, maintaining, expansion
11. How to get started on YouTube?
12. How tough is it to get traction on YouTube in 2018?
13. Malcolm Gladwell and how it takes 10,000 hours to master a craft
14. The importance of channel authority
15. Practicing in public to find your niche, get clarity and practice
16. Best time to start in YouTube is today
17. How starbucks grew to fame, was starbucks the first to do coffee or did they just do it better? Starbucks just sold beans, first store was in pike place market.
18. With great influence, comes great responsibility
19. Logan Paul showing a dead body, looking at their value system
20. "Pursuit of greatness is good, pursuit of fame is dangerous."
21. Entitlement in our culture is something to watch and be cautious about
22. "Try not become a man of success, but rather try to become a man of value." – Albert Einstein
23. What kind of value does it serve you?
24. Hard truth sandwiched in encouragement also known as the oreo method. People need truth. Do not need egos inflated.
25. How there is no easy way and you must put in the work!
26. "Real love is going to speak the truth in love."
27. "Help others get what they want so you get what you want."
28. How he got started in his church doing videos in 2003 as weekly videos at the church
29. How he worked years for free at the church
30. 3 things that have taken men out historically are gold, girls and glory, never forget where you came from
31. How he did 30,000 hours in obscurity to perfect his craft
32. If anyone desires to be great, make yourself a servant first
33. Why being a visible minority or specific gender should not use that as an excuse for their success
34. All you need is one example that looks like you to stop complaining and get to work
35. "It is not about your resources, it is about your resourcefulness."
36. "Stand in service of others by living your authentic truth."
37. Importance of building community, showing authenticity and being true
38. CES Coverage Las Vegas
Reach out to Sean here.
Join Our Facebook Community!
Facebook Group | https://www.facebook.com/groups/2051291358485834/
**** CONNECT WITH US ON SOCIAL MEDIA ****
Instagram | https://www.instagram.com/RyanHoltz1
Instagram | https://www.instagram.com/ryanholtzshowpodcast/
Twitter | https://twitter.com/ryanholtz1
Snapchat | https://snapchat.com/add/ryanholtz1
LinkedIn | https://www.linkedin.com/in/rholtz
Facebook | https://www.facebook.com/TheRyanHoltzShowPodcast/