Podcast: Play in new window | Download | Embed
Subscribe: RSS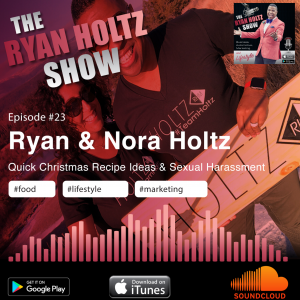 In this episode of The Ryan Holtz Show Podcast, I have the pleasure of sitting down with Mrs Holtz aka Food For Love to chat quick and easy Christmas recipes to make your life a little easier as you get ready to entertain for the holiday season!
We also chat about Mario Batali's sexual harrassment allegations and the impact that social media has had on numerous Hollywood stars in wake of all these alegations. It seems that social media has gave people a voice and that voice just like anything can be used for the greater good or the greater bad.
We also chat about Macaulay Culkin and his bunny ear wearing ordeal that has got a professional wrestler quite upset, you can check out the full article on TMZ.
Also want to give shout outs to Mancrafts Canada and Kevin from 4 point Taekwondo! Both of these awesome people and companies took time to send out some gifts to the show! We are forever grateful!
Also, feel free to connect with Nora at Food For Love on Instagram to see some tasty and healthy food pics!
As always, please rate the podcast on iTunes, Soundcloud and Google Play!
**** CONNECT WITH ME ON SOCIAL MEDIA ****
Instagram | https://www.instagram.com/RyanHoltz1
Instagram | https://www.instagram.com/ryanholtzshowpodcast/
Twitter | https://twitter.com/ryanholtz1
Snapchat | https://snapchat.com/add/ryanholtz1
LinkedIn | https://www.linkedin.com/in/rholtz
Facebook | https://www.facebook.com/TheRyanHoltzShowPodcast/