Podcast: Play in new window | Download | Embed
Subscribe: RSS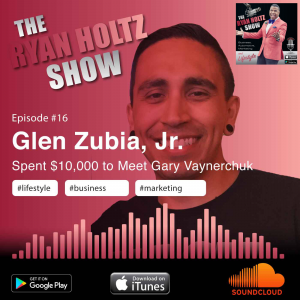 In this episode of The Ryan Holtz Show, I bring on a special guest by the name of Glen Zubia, Jr. He is a YouTuber, Influencer, ebay Reseller and spent $10,000 to meet Gary Vaynerchuk! I was watching one of #GaryVee's videos on YouTube and came across Glen who Glen from Hustler Hack's who was one of the people selected to pay $10,00 for a bootcamp and in person meeting with Gary. I watched his vlog about the whole experience and truly felt inspired. So, I looked him up on Instagram and DM'd him and here we are!
Here is a summarized set of shownotes:
1. Why Glen paid $10,000 to meet Gary Vaynerchuk and his experience broken down
2. What Glen learned by talking to Gary Vaynerchuk as he asked him how to enhance his personal brand and expand his speaking gigs
3. How Glen manifested his confidence to become a YouTuber and take the leap to open up his own e-commerce business full-time.
4. How Glen grew his YouTube channel to over 30,000 subscribers and over 3,000,000 views simply by showcasing and teaching people how to source items for resell on ebay and Amazon merch.
There is so much I could write here, but trust me, this is an absolute must listen!
Reach out to Glen below:
Instagram here.
Ebay here.
YouTube here.
As always, please rate #TheRyanHoltzShowPodcast on Google Play, iTunes and Stitcher! Thanks for listening!
BOOOM!