Podcast: Play in new window | Download | Embed
Subscribe: RSS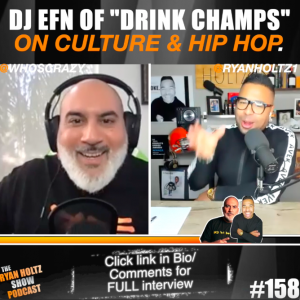 Legendary DJ EFN of the hit hip hop show Drink Champs drops by the show to chop it up about success, fatherhood, and early days hip hop. This conversation sheds some great light on the human that DJ EFN is and how he has climbed the ladder to where he is now. This show will serve you if you are someone looking to UP your game all while balancing being a parent.
DJ EFN is legendary in the hip hop scene starting out with mixtapes all the way to interviewing people like Kanye West all the way to ICE CUBE & Red Alert to name a few.
So make some noise and enjoy the show!
Text Me so we can be more than just internet friends!
Join our mailing list to get great content and win cool stuff by clicking here.
Enjoyed this episode?
Please leave a review on iTunes here.
Want to get more exposure and put your business in front of the right audience? Inquire to see how you can advertise your company on the show, click here.
Watch our full video podcasts on YouTube here.
Please also subscribe and click that bell to get notified!
→→→ CONNECT WITH ME ON SOCIAL MEDIA:  ←←←
▶︎ INSTAGRAM | https://www.instagram.com/RyanHoltz1
▶︎ TIKTOK | https://vm.tiktok.com/ZM8CF6LKD/
▶︎ YOUTUBE | https://www.youtube.com/ryanholtz
▶︎ TWITTER | https://twitter.com/ryanholtz1
▶︎ SNAPCHAT | https://snapchat.com/add/ryanholtz1
▶︎ LINKEDIN | https://www.linkedin.com/in/rholtz
▶︎ FACEBOOK | https://www.facebook.com/RyanPHoltz/
▶︎ ITUNES | https://itunes.apple.com/ca/podcast/the-ryan-holtz-show/id1167195878?mt=2
▶︎ WEBSITE | https://ryanholtz.ca/
▶︎ SPOTIFY | https://open.spotify.com/show/2rLdYsJKw5Vb6yoMoV2jhw?si=uxDfBei9SOWbLRcTU50T0Q