Podcast: Play in new window | Download | Embed
Subscribe: RSS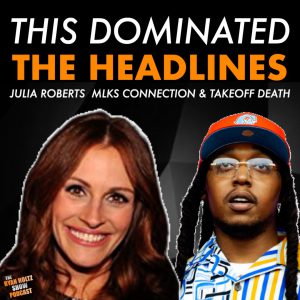 What a week on the internet! This past week brought us some crazy news and revelations. In an interview with Gayle King, Julia Roberts revealed how she was connected to Dr. Martin Luther King Jr and his wife Coretta. Julia Robert's parents owned an acting workshop in Atlanta before she was born. It so happens that Coretta was calling around looking for places to enrol her children and Julia's parents were one of the only ones saying yes. Now remember back in the 1960's segregation was still happening so you did not see black and white kids playing together. But Julia's parents were very open and welcomed the kids with open hearts. Fast forward to when Julia was born and her parents had to come up with a way to pay the bill. This is when the kings stepped in.
Then Takeoff from Migos rap group was gunned down at 28 in a terrible tragedy outside a bowling alley in Houston. This has devastated the hip-hop world. But, enough of me talking, have a listen to this week's episode as there is a nugget on how to increase your impact by going inside yourself to dig a little deeper to find your truth.
Happy listening!
If you or your business want to expand your impact and monetary position, visit here.
Much love,
#TeamHoltz