Podcast: Play in new window | Download | Embed
Subscribe: RSS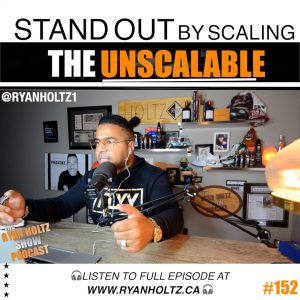 How can I build a brand that stands out? How can I scale engagement on social media? How can I make time to connect with people in a meaningful way while still operating my business? Ryan, this is just too much work!
So happy you asked these questions as they are all very common and you are not alone! In this week's episode, I am keeping it real for you! As a business owner or someone who is high performing in their career, you know what you signed up for, and let's be honest: IT AINT EASY! That's ok. With AI, Crypto, and NFT's all coming into the game, it is fair to say that our world is changing like crazy! But, if you listen to our show, you are totally ok with change and in many ways, even EMBRACE it.
This week's episode is keeping in mind that maybe YOU HAVE NOT thought about this and therefore might even consider it. The goal is to provoke your mind to wake up and perhaps want to know more about how to do this! In coming episodes and guests, I will be doing my best to lay a blueprint on the ACTIONABLE steps, but for now, just let this episode marinate on your brain. Hope to hear from you and thanks for all the brand jam bookings as it seems so many of you are really trying to take your genius magic and apply it to YOUR LIFE.