Podcast: Play in new window | Download | Embed
Subscribe: RSS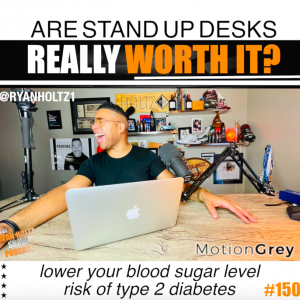 Is a stand-up desk really worth it?! In our current economy and the uprise of working from home, our workspaces need to be inspiring, productive, but also extremely comfortable! And with many people have limited space and health issues. Some are choosing to explore the option of a stand-up desk! In this episode, I chat about the 6 benefits of having a stand-up desk and why you may want to consider one!
Translating decluttering techniques to free our physical and electronic workspace as well as our minds of clutter. 
Being happy is usually the top priority on everyone's list. Creating a sanctuary and an inspiring workspace environment might just add to that happiness & work productivity. 
Mary Kondo recommends truly immersing yourself in the decluttering experience. Start early in the morning, when no one is around. She also supports the KonMari Method. Holding an individual item and asking ourselves if it "sparks joy". If not toss it, if it does keep it. 
6 benefits of a stand-up desk
Reduce back pain 

Lower your risk of heart disease 

Lower your risk of gaining weight & obesity (burning 50 extra calories an hour) 

Lower Blood Sugar Levels & Risk type 2 Diabetes 

Improve mood and gain energy (prolong sitting & sedentary time has been linked to increased risk of depression & anxiety) 

Boost productivity