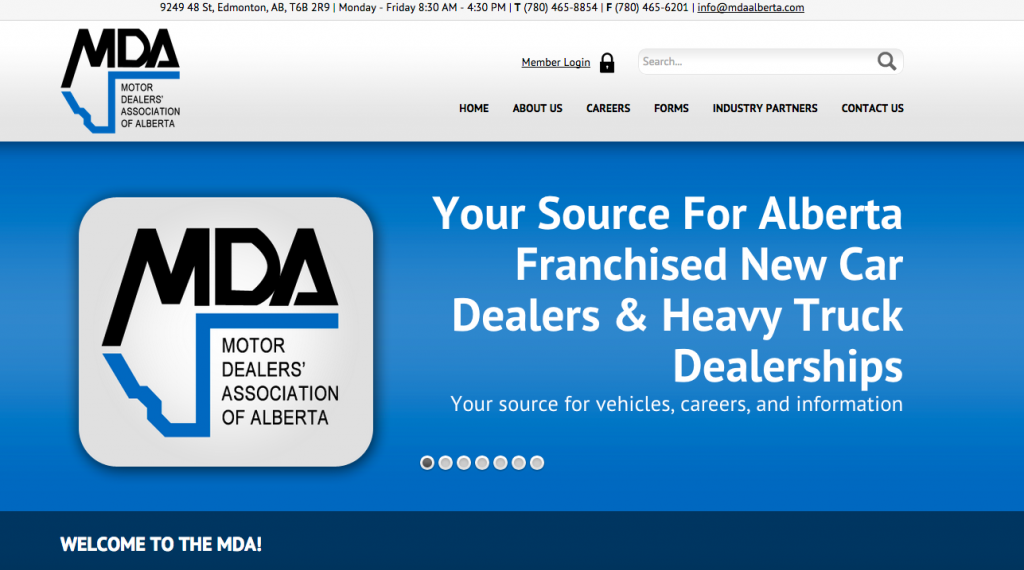 Super proud and humbled to execute and develop the brand new website for Motor Dealers Association of Alberta. With an auto association that is progressive and forward-thinking like the MDA of Alberta, they wanted their website freshened up a little bit!
This new website will help to provide as a resource for auto dealers and associate members as a online meeting place to get information and have open dialogue. It is also just in time for the amazing western dealer summit that is coming up this September! Check out the conference here.
Below are a few features:
1. Custom website design
2. Online registration forms for events, classes, and membership option with Stripe payment gateway integration.
3. Directories for industry partners, associate members, and dealer members.
4. Careers section for job postings with custom user role for dealer members to login and post their own job listings.
5. Archived MDA bulletins and dealer roster available to registered members
6. Blog section for industry news
7. Events listing with online registration and payment options
In a time that the internet is booming, organizations ranging from non for profit all the way to associations and auto dealerships, are really putting in effort to make sure their online presence is the best that it can be.
Check out their new website here and let me know what you think!
As always, text or call me at 780.218.5899 with questions about all your online marketing needs!
Have an amazing day!