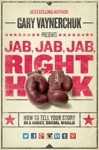 Well, this post is long overdue. So as always, when I go on vacation I maximize my time on the plane by reading a good and educational book. My selection this time was a book called "Jab, Jab, Jab, Right Hook" by Gary Vaynerchuk. Yes I know, anyone who has heard me speak has heard me bring his name up many times, it is for one reason and one reason only, he is real, practical and literally tells it like it is! Good old fashion hard work!
Being a marketing person specializing in the Digital Sphere with a niche in the Automotive industry I am constantly seeking out good content and fresh ideas and perspective. This book talks about social media and implementation inside of any business using platforms like facebook, twitter, YouTube, pinterest and instagtam to natively tell your brand's story. The book focuses on the "how" and not so much the "why" which is great!
I have always said that in marketing you have to make people cry or laugh because it evokes emotion. If you do neither then your chances if standing out in such a noisy world are slim to none. "Do not let perfection hinder you as intent is king". I love this quote because a lot of businesses particularly automotive dealers are so hesitant on simply starting the process of entering the digital world because they want to be perfect. Most times the imperfections are what makes the perfection.
My advice: Dive in start swimming and come up with a strategy as a automotive dealership to tell your story to your customer base. Have fun with it!
If you need help, reach out to me and let's start with a conversation and go from there!