Podcast: Play in new window | Download | Embed
Subscribe: RSS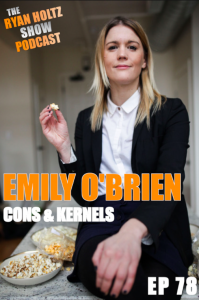 This episode is sponsored by Cons & Kernels. Meet Emily O'Brien. She served time in prison for smuggling drugs across the border. Don't write her off yet, just because she is a convict. Her story represents the word redemption and the taste of turning a negative into a positive. I wanted to have Emily on the show as we chatted via her Instagram and I was wondering who the heck this person is. And then I went on my digital deep dive. Wow. She has pictures with police officers, previous inmates and several media personalities. I could see almost immediately that she was on a social crusade to tell her story and the story of people who truly do deserve a second chance and actually do make good on it. Emily did not not run from her problems. She owned them and actually leveraged them for the good. Enjoy listening to this one!
Enjoyed this episode? Please leave a Review on iTunes here.
Emily's Bio:
Cons & Kernels all started when Emily O'Brien went to prison.
Before, Emily was an entrepreneur and social media professional, having created her own firm at a young age and enjoyed great success. Regrettably, addiction caused her to make some poor choices that culminated in a four-year jail term.
As her sentence began, Emily made it her mission to transform herself, get clean, and make a positive difference during her term. "I didn't know how I'd make a difference at the time," says Emily, "but I knew I would find something I cared about that would benefit from a purpose-driven facelift."
Thus, Cons & Kernels was born.
Upon her release, Emily made a decision to start a popcorn company that used high quality, health-conscious ingredients to create unique flavours inspired by the ones she found in prison. A fun, self-deprecating brand that would also help remove the stigma around people who had prior convictions and provide newly-released offenders with the chance at a fresh start through training, empowerment, and education.
Emily has been featured by the CBC, CH News, the Hamilton Spectator, AM 900, and many other media.
Her upcoming web TV series CRIMINALLY-ACCLAIMED is set to debut this fall on YouTube.
→→→ CONNECT WITH ME ON SOCIAL MEDIA: ←←←
▶︎ INSTAGRAM | https://www.instagram.com/RyanHoltz1
▶︎ TWITTER | https://twitter.com/ryanholtz1
▶︎ SNAPCHAT | https://snapchat.com/add/ryanholtz1
▶︎ LINKEDIN | https://www.linkedin.com/in/rholtz
▶︎ FACEBOOK | https://www.facebook.com/RyanPHoltz/
▶︎ ITUNES | https://itunes.apple.com/ca/podcast/the-ryan-holtz-show/id1167195878?mt=2
▶︎ WEBSITE | https://ryanholtz.ca/