Podcast: Play in new window | Download | Embed
Subscribe: RSS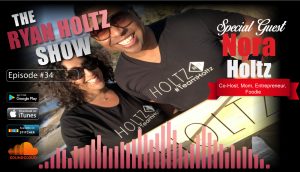 In this episode of The Ryan Holtz Show Podcast, I have my lovely guest co-host aka my wife, Mrs Holtz on to chat about some interesting things. We chat about David Goggins and Joe Rogan. I was watching a YouTube video the other day of an interview him and Joe Rogan did on the Joe Rogan experience and it really stood out to me.
In the Joe Rogan interview, David talked about the importance of callusing your mind similar to the way you would your hands while weightlifting etc. Because of David Goggin's past and dramatic life experiences, it became a lifestyle and religion for him to become mentally sharp in everything that he does.
Here is a breakdown of what we chatted about:
1. What makes a great podcast?
2. Ryan Holiday's perspective on becoming a father and juggling business success
3. "Ego is the anesthesia that deadens the pain of stupidity."
4. CREAM (Calendars Rule Everything Around Me) Shout to to Ross Simmonds
5. Buddhist mentality to stay sharp physically and mentally
6. Being parents and raising kids
7. Why Nora loves podcasts and why she see's the value in them
8. Weed and how it chills people out hahahah
9. Different thinking perspectives and the benefits of both of them
10. Car bars and importance of dating
Again, THANK YOU for listening and we appreciate you. Remember, Don't put Avocado on your toast! Drop us a review if you enjoyed!
Join Our Facebook Community!
Facebook Group | https://www.facebook.com/groups/2051291358485834/
**** CONNECT WITH US ON SOCIAL MEDIA ****
Instagram | https://www.instagram.com/RyanHoltz1
Instagram | https://www.instagram.com/ryanholtzshowpodcast/
Twitter | https://twitter.com/ryanholtz1
Snapchat | https://snapchat.com/add/ryanholtz1
LinkedIn | https://www.linkedin.com/in/rholtz
Facebook | https://www.facebook.com/TheRyanHoltzShowPodcast/