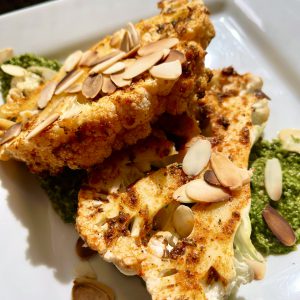 The world is split into three when it comes to the all-mighty cauliflower. We have the loyal fans, the absolute haters and the ones that will eat cauliflower only if it tastes like spicy buffalo wings. I know, everything should taste like spicy buffalo wings. The truth about cauliflower is that it has superpowers. Yes, superpowers! It can be transformed into many dishes, such as Mac & Cheese, Buffalo Wings, Rice and even Pizza Crust. The creations of this amazing vegetable are endless.
Turning haters into believers is no small fete. My Cauliflower Steaks with Homemade Pesto Sauce is a simple yet delicious recipe that will get everyone turning heads, diving in and ultimately enjoying every last bite.
Cauliflower Steaks With Homemade Pesto Sauce
Ingredients
1  head of cauliflower
1  tsp each paprika, oregano, onion powder, salt & pepper
2  tbsp olive oil
Pesto Sauce
1/2  cup spinach
1/2  cilantro (preferred herbs)
2  tbsp nutritional yeast
3  cloves garlic (roughly chopped)
1  tbsp white wine vinegar or lemon juice
3 tbsp of nuts ( cashews used in the recipe)
1  tsp salt & pepper
4 tbsp olive oil
Instructions
1.  Wash and prep the entirety of the cauliflower head. Cut cauliflower steak into 1-inch slices keeping the stem of the cauliflower intact. Mix paprika, oregano, onion powder, salt, pepper and olive oil together into a paste-like consistency.
2. In a medium-large size skillet heat olive oil, coating the bottom of the skillet. Lay cauliflower steaks onto a hot skillet ( 2 steaks if small, 1 steak if large). Brush the top of the steak with spice paste, flip and repeat on the other side. Cooking each side for 7-8 minutes. You want the cauliflower to be soft and cook through but not soggy and falling apart.
3. While steaks are cooking this is a good time to prepare the pesto sauce. In a blender or food processor add all ingredients except for olive oil. Using a good quality olive oil slowly drizzle while blending. If you desire a thicker pesto sauce use less oil (2-3tbsp).
4. Spread pesto sauce across a plate and stack up cauliflower steaks, topping steaks with toasted sliced almonds or nuts of your choice.
5. Let everyone know the steaks are done! Count how many heads you turn at the next gathering. Enjoy!