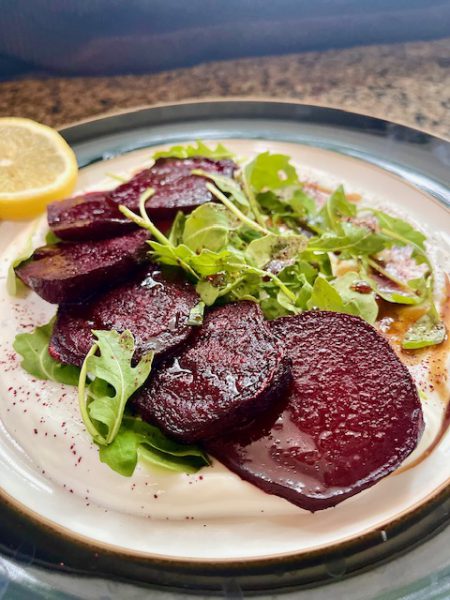 This elegant dish is filled with bright and vibrant flavors that your mouth will be delighted to savor. The lemon yogurt topped with roasted beets, and peppery arugula and drizzled with a simple balsamic vinaigrette dressing blends perfectly while being healthy and satisfying. Don't worry about having to spend hours preparing this dish, because it takes only minutes!
This recipe will make enough for two servings, but you can easily double it if you are serving more people or just want to make sure you have leftovers.
The combination of lemon yogurt, beets, and arugula is amazing. The tangy yogurt is a great contrast to the sweet roasted beets as well as the bitter arugula. The balsamic vinaigrette adds another layer of flavor to this already delicious dish!
Ingredients:
– 2 cups of yogurt (I prefer greek yogurt)
– 1 lemon, juiced
– 1 cup roasted beet (or you can use canned beets)
– 1/2 cup arugula
– Balsamic Vinaigrette (recipe below)
Directions:
1. Toast the beets in a pan on the stovetop for about 10 minutes, or until they are soft and cooked through. Coat them with some olive oil and salt, then put them on a baking sheet and bake at 350 degrees F for about 20 minutes, or until they're golden brown.
2. In a bowl, combine 1/2 cup of arugula leaves and 1 tbsp of lemon juice and set aside. In a bowl, combine 4 tablespoons of balsamic vinegar and 4 tablespoons extra virgin olive oil, and 2 tablespoons of honey, mix well. Season with salt and pepper to taste. Set aside until you're ready to plate your meal.
3. Layer roasted beets over lemon yogurt and arugula on a flat dish or wide bowl. Drizzle balsamic dressings and top with red chili flakes.
Make with love and Enjoy!