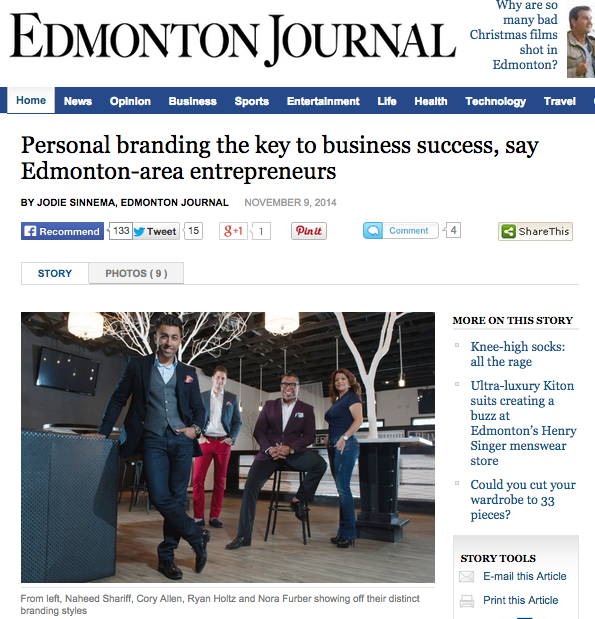 Marketing and business has truly changed and evolved over the last few years in a BIG way! I remember the days when I worked for someone and the company preached nobody is bigger than the brand. Today, that still may be true, but connecting with your customers has never been so important. I have never heard a customer or client say: "Today I had such an amazing conversation with Mr/Mrs brand." Behind that brand is a human and psychologically we all want to talk and share thoughts with each other.
Fast forward to 2014 and we have companies and brands marketing through their employees personal brand and also reaching out for brand ambassadors. After all, if a customer said to another friend how awesome your company is, don't you think the chances of that person wanting to do business with you automatically increases? I do!
Jodie Sinnema wrote this amazing Edmonton Journal Article featuring myself alongside Naheed from Boston Pizza, Nora from Monjeloco Jeans (Featured On CBC's Dragons Den) and Cory from tribute lounge. In the article, she asks everyone how personal branding has helped achieve their desired success. I do not want to give much away, but go read the article! If you are in business and looking for creativity, this is a must read!
I will end off by saying marketing has never been cheaper and more cost effective. The cost of customer acqusitiion equals sweat equity and relationship building. There is no easy way. Hard work, passion, strategy and enthusiasm will get you off to a great start.
What do you think of personal branding? How has it helped your business?
If you need any kind of assistance in marketing, training, branding or execution, reach out to me and let's chat.If not, reach out to me anyway, because I love to chat 🙂
Ta ta for now and remember to wear some AWESOME socks!