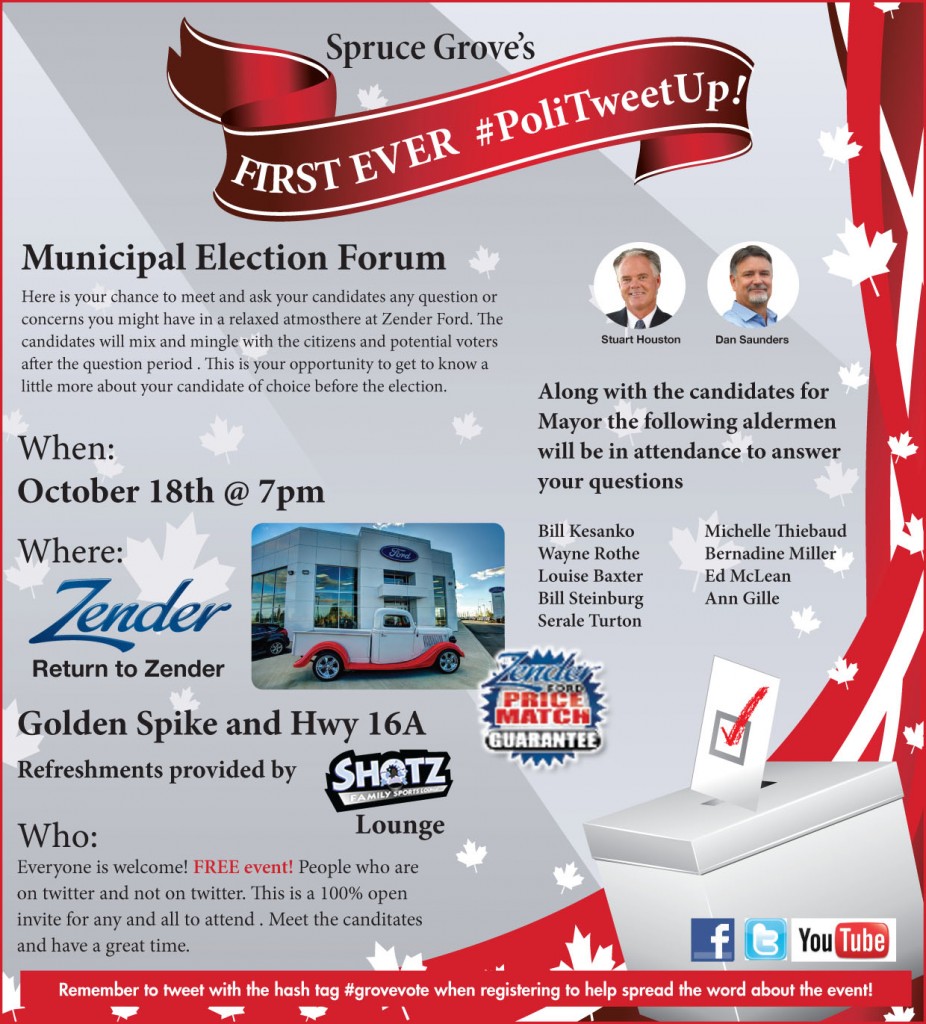 Sponsors:
First off, thanks to Zender Ford and Shotz Lounge for sponsoring. On behalf of myself and Erin Stevenson, thank you for your support!
Well what can I say! The first ever #PoliTweetUp held in Spruce Grove, Alberta was a success. We had about 60 people show up including all 11 candidates which was great. Shotz lounge was generous in sponsoring the food for the event, big thanks to them! Visit them here.
With any new or innovative type of event, you never know what to expect. There was definitely a little bit of apprehension from everyone involved, but that only lasted for about 2 minutes. Once everyone arrived and settled in, all you could hear in the room was ongoing chatter and some pizza filled mouths. The whole purpose of this #PoliTweetUp was to provide potential voters and candidates an environment where they could get to know one another in a calm, cool and relaxed environment. I had the pleasure of organizing this event with Erin Stevenson (@Dragon_Gemini) on Twitter. I opened up the evening and Erin did all the moderation which was awesome!
The event started at 7pm sharp and the last person left at about 9:30pm (Which I had to boot out 😉 lol) This tells me that people truly enjoyed themselves. We opened up the speaking with one formal question allowing the candidates two minutes each to answer. We then took some questions live from Twitter and allowed the candidates 1 minute to respond.
How far has the hash tag #grovevote reached?
😉 9,300 accounts reached
😉 33,840 Impressions
For a detailed report and to see the top contributors on twitter using the hash tag Click Here.
Below you will find the questions and answers from Candidates. **Please note that this is not verbatim as we are simply trying to capture the essence of what they are saying.**
Dan Saunders was busy at the event and not able to answer some Q & A. As a result, please visit Dan's website here for more detailed information.
Mayoral

Why Vote for me?
Houston:
• Strong commitment to this city, I am more than just sports.
• Cleaning and greening of Spruce Grove.
• Sustainability- we have a premier neighbourhood in Greenbury that is the first of its kind
• Continued and smart growth as a city
Saunders:
• Have council experience- Alderman for 6 years
• Business owner, raised 5 kids in Spruce Grove
• I have people sense, that is my strength, working with others, listening to their concerns
• I see things that others that can't see
If elected Mayor, you are working closely with other mayors on the Capital Region Board. Currently, it doesn't appear to be working as it was intended. Do you feel that as Mayor you will represent the best interest of Spruce Grove residents on this Board and how will you do this?
Houston:
• The CRB has representation from 24 mayors around the region so it's imperative we work together and collaborate.
• There has been an explosion of growth in the Edmonton region, in particular how land is being used. It's important we step back and as a region really look at our planning of these lands so we all benefit.
• Transit is an area we have to concentrate on, Spruce Grove must have a link
• Affordable housing so people can afford to live in the region- we are a model of that plan particularly in Greenbury- a mix of integrated housing, various housing types, a model of what thoughtful development looks like and increases quality of life
Saunders:
• There is often an overlap in services particularly with Stony Plain that we have to address. We share many of the same services and we split some of the larger projects that service the areas like the Tri-Leisure Centre.
• Spruce Grove paid for 42% of the tri-leisure costs
• We have to look at better regional services such as transit, need to do a better job of bussing residents into the city, providing the service they need
• When it comes to capital projects, it is a give and take- it cannot be about us giving taxpayer money to finance these projects and not see any return. Are we seeing the benefit.
• Must have a clear understanding of where they're coming from first before we put that type of money forward.
Alderman
Why vote for me?
Baxter:
• I have a doggedness to me. I don't give up.
• I own a bookstore here in the city. Not only am I business owner in Spruce Grove, I'm in an industry that has faced new challenges- e-readers, e-books, but I haven't given up. I stick to it.
• We need a path going forward. It's time to look at things a little differently.
• We have lots of sports fields and parks and green space but it is time to look at what really needs to be developed, what has lacked in our planning these past few years.
• Our focus should be a long term vision and we have to pay attention to that
Gillie:
• I grew up here and my kids have grown up here and it's important that we keep our kids active.
• But not just the kids. We have an older population in the Grove that has been neglected for activities. We want active seniors so I'd like to see more focus on keeping kids and seniors active. Give them something to do.
• I am super passionate for this city and have been involved in numerous boards. I'm an author, public speaker and mom and I really want to move this city forward.
Kesanko:
• I've been on council 6 terms (not consecutively).
• I've lived and taught in Spruce Grove
• People are excited to be in Spruce Grove. They love living here.
• We need to focus on commercial development to prop the tax base. We can't continue to raise taxes to support our planning. We need a solid commercial base.
• Clean and green- develop the city to ensure it stays that way. Sustainability in the city is key
• We need to keep Spruce Grove a great city, provide great services as that's what residents have come to expect.
McLean:
• I've been part of the Fire Department and part of this community for over 30 years. Raised my family here.
• I'm not a politician but am ready to take on the role of one.
• I have integrity and common sense and I'd like to bring that back to City Hall.
Miller:
• Infrastructure. It's been neglected too long.
• We need to beautify this City- we could be doing a better job of cleaning our streets and ensuring we have a beautiful place to live
• I'm about accountability. We are held accountable to residents but we need to hold each other to account as well. I'm about prudent spending and connecting that spending to our future planning of this city.
• We also need to be working more closely with our residents. We don't do that enough.
Rothe:
• I have a financial background and my focus on council has always been finance. We have to spend prudently and know where our dollars are being spent.
• There are tough decisions that have to be made and not everyone can get what they want. You have to be able to say no when the dollars aren't there.
• With my financial experience, my focus is about keeping the city on track and ensuring our finances are the best they can be.
Steinberg
• I have a science (radiology background) and have spent time on council in the 80s as well as former Mayor of Spruce Grove
• I'm a senior now in this City and proud to say so.
• I've been involved and chaired the Economic Development committee and sat on numerous others
• To me, we have to ensure people can afford to live here. We need to provide affordable housing to our residents.
• For local business, we need a proper business plan. They are the backbone of this community and with business, we can do lots of other things in our plan.
• Recreation- always important going forward.
Thiebaud:
• I have a ton of volunteer experience and many of it with the city and the Chamber of Commerce. I like to be involved and make a difference.
• I'm a homeowner and a business owner in the city so I'm heavily invested in the success of our city
• I've heard from people when I'm door knocking that I am trustworthy and I am.
• I am there to be a voice for our residents and for business owners and to bring these issues forward.
Turton:
• Elected in 2010 and thank you for putting your trust in me to represent you
• I have a passion for this city and proud to live here.
• I don't just talk about what needs to be done. I back it up. I back it up with hard work. I'm not afraid to work hard to make this city a better place to be
• Public engagement is extremely important and we need to build better bridges like this- between residents and businesses to make this a better city.
If elected Alderman, what issue/project would you like to champion?
Baxter:
• Cultural Programming- long range planning. Spruce Grove needs some heritage planning- we have a grain elevator that should be designated historical, we have an aging theatre that should be upgraded or replaced. Our Art Gallery is part of the library- we need to plan for our future.
Gillie:
• Traffic and pedestrian safety
Kesanko
• Proper and sensible planning. We have a land use bylaw and it's incumbent on the developers that they comply with those bylaws. 10-15% of the development is designated green space
• Service levels must be kept- sensible planning
McLean:
• Traffic and pedestrian safety is my top concern.
• Traffic lights are a huge issue in this city and there has to be a better way to manage our traffic concerns. The current situation for residents is not working and I will focus on this.
Miller:
• Photo radar is an issue here. I've here it when I'm door knocking. We get what the intention is but is it working? There has to be a better way to make it more effective or as intended so my focus will be on photo radar.
• Infrastructure- our streets need to be cleaned and we must beautify this city. Our infrastructure must be kept up so we have great access for emergency vehicles when they need access
Rothe:
• Core services are important. We have to keep up with them. As the city grows, the demand and needs grow so we have to keep up with our roads and infrastructure
• Cultural services. There is a balance needed. I'd love to champion an Amphitheatre, Spruce Grove needs something like this but it all comes down to balance and priorities.
Steinberg:
• Inner-municipal bus service (reduce traffic and get cars off the road within the city)
• Affordable housing (I chaired the task force on this and will continue to champion) We had over 200 people considered homeless in our city. That's unacceptable.
• Youth- we need to give them something to do.
Thiebaud
• Special Needs- more sports facilities or an integration of their needs within our current facilities. Right now, children with special needs have to go into St. Albert. I'd like to be involved to bring these services here.
• Industrial growth- nee more of this. We don't need to continue to raise taxes on the backs of the taxpayer but increase our industrial/commercial base to support our initiatives
Turton:
• Upgrades splash part. We need spontaneous recreation in this city for children and their families. And it shouldn't cost them to use it. Right now, families take their kids to Stony and we need to provide that to them here.
• Investment in culture. I'd love to see what the next version of the Horizon Stage would look like. We need to invest in our culture to make this a wonderful city.
• We also need to promote ourselves to businesses- that Spruce Grove is the premier place to do business west of Edmonton.
Questions
1. The arena debate in Edmonton has been a hot issue for a couple of years and cost sharing of these large projects has come up in discussions. What are your thoughts on cost sharing initiatives in the Capital region?
Houston: .I believe SG can support Provincial Govt collaboration Grants that benefit the Region, but NOT direct funding from Spruce Grove tax base.
Baxter: If we can get it, go for it as long as there is a plan in place. We can't lose control of the project. And it has to be a win win for everyone.
Gillie: People can't afford a hockey game, why we use our tax dollars for the arena?
Kesanko: Cost sharing can't be just one way. If they want us to cost share the arena, then they have to cost share the industrial and commercial gains to us as well.
McLean: Only if it's in the best interest of our citizens
Steinburg: Provided the municipalities share in the revenue on a fair basis with the private sector. Don't pay down your private debt from what you take from us.
Thiebaud: I think they are essential to our ability to provide these amenities.
Turton: The arena is being supported b the Provincial Collaboration grant which is supported currently by Spruce Grove. We need to look at ways to provide services to our residents outside of our city borders.
2. If there is a push to amalgamate Spruce Grove with Edmonton or other parts of the regions, what is your response to this?
Houston: There is currently not a push for regional amalgamation and don't believe this is on the radar in the short term. I believe in Spruce Grove's single identity, but do support regional cooperation.
Baxter: I can see a Spruce and Stony amalgamation sometime in the future but not Edmonton. It makes sense with proximity to Stony to cost share like services
Gillie: Why? We don't need to. We can still partner with other cities and towns in the region, but we shouldn't have to join.
Kesanko: Certainly not with Edmonton- we're not valuable enough to them. But it's likely inevitable with Stony Plain. Either we'll agree to do it or Municipal Affairs will force us to.
McLean: I would have to see the proposal but amalgamation of services would be beneficial (especially for emergency services)
Steinburg: They should all by so lucky to be a part of us. We should amalgamate with Stony and take the best of both- culture and heritage from Stony and recreation and business from Spruce. We compliment each other, not conflict.
Thiebaud: I feel good governance is often achieved with collaboration. I would be active in those conversations.
Turton: No to Edmonton. I believe the best structure that would serve residents of Spruce Grove the best is a specialized municipality similar to Strathcona County. Merge- Spruce, Stony and Parkland.
3. Spruce Grove has seen rapid growth in the last decade and longer. What should the city's priority be to ensure growth is done responsibly?
Houston: Responsible growth is ensuring we achieve a balance between residential and non residential taxation while maintaining excellence on infrastructure & service levels.
Baxter: Make sure our land use bylaws stay current with the changing times. Have the right trained people on staff with the "expertise" to plan. Keep our long term plan current and review yearly.
Gillie: Take care of our older/mature neighbourhoods first.
Kesanko: Make sure planning is done carefully, sensibly and follows the land use bylaw. More development should occur but up to standard and it must comply.
McLean: Commercial and residential must be balanced. Older areas need to be taken care of i.e sound barrier for older areas.
Steinburg: Inter municipal bus service. This would reduce the traffic and allow for a greater timeline to establish new roadways.
Thiebaud: Infrastructure and industrial growth to support future amenities.
Turton: Long term planning- new residential development must be responsible for a larger portion of new capital costs.
4. Is City council doing a good job of consulting and communicating with residents and business owners when it comes to major decision making? If yes,how. If not, what should they be doing?
Houston: Yes we do a good job, however I believe we could improve with the further development of task forces and consultation by engaging our citizens and reaching out to a broader spectrum of our public with dialogue on ideas and issues.
Baxter: I feel it does, we use all available modes of getting information out there. We have an excellent website and we have become very social media savvy. If all else fails, staff and Council is very open to discussions one on one.
Gillie: Yes. Residents need to get involved. Attend council meetings, ask questions.
Kesanko: We could partipate more with residents and business to ensure that there is input and consultation. We cannot act in isolation.
McLean: Council needs to be transparent and listen to the citizens who voted us in.
Steinburg: Yes, through Economic development working and citizen and business representation meetings.
Thiebaud: Council needs to be more active on social media. The City Admin does a good job but would love to lead the way in this regard.
Turton: Things we could improve is increase the number of task forces for community engagement.
5. If you had to describe Spruce Grove to a person moving to the Edmonton region, how would you describe our city?
Houston: SG is modern urban center whose citizens enjoy an exceptional quality of life in a safe caring community with abundant community spirit and pride!
Baxter: Young, green and forward thinking. Most amenities needed so you can play, live and shop locally.
Gillie: Community, friendly.
Kesanko: Clean, safe, friendly. Well developed, ample amenities. Don't have to leave Spruce Grove anymore.
McLean: A great place to live, raise a family and retire it.
Steinburg: Great place to live, clean and green. Family friendly, safe.
Thiebaud: Our City is NOT a bedroom community. We are a thriving, active and growing community, not just a city west of Edmonton.
Turton: A dynamic, fast growing city that has everything so we don't have to go to Edmonton.
6. What is Spruce Grove's greatest challenge at the moment?
Houston: Spruce Grove's greatest challenge is ensuring the development of adequate school space to keep pace with our current growth rates and demographics.
Baxter: Managing growth and social issues that will come with it.
Gillie: Pedestrian and traffic safety
Kesanko: Managing the huge growth we're experiencing. Maintaining quality of service.
McLean: Proper balance of development and take care of core services
Steinburg: Continuation of planned growth. Also we are creating jobs.
Thiebaud: Our rapid growth and our limited land. Our loss of a 'community' feel.
Turton: Ensuring that the growth is controlled and council does not become reactionary.
How long have you lived in Spruce Grove?
Houston: 36 years
Baxter: 29 years
Gillie: 31 years
Kesanko: 33 years
McLean: 35+ years
Steinburg: 40 years
Thiebaud: 5 years
Turton: Spruce Grove for 8 years; in the region since '96. I graduated high school in Spruce Grove.
If an incumbent, how many years on council?
Houston: 12 years
Baxter: 12 years
Kesanko: 18 years (but not consecutively)
Steinburg: 9 years (12 years away) then 9 more years- 18 years total
Turton: 3 years
What do you love most about the city?
Houston: The PEOPLE, and their community spirit and pride!
Baxter: The ease of getting from one place to the other. Nowhere in the City is more than a few minutes away.
Gillie: the PEOPLE!
Kesanko: Well managed, the people are enthusiastic about living in Spruce Grove.
McLean: Everything
Steinburg: Clean and green, well managed, many programs for youth
Thiebaud: Its people!!!!
Turton: The trail systems
Do you have a hidden or secret talent?
Houston: YES!. but It won't be hidden or secret if I tell you –
Baxter: I can see both sides of an issue. I can almost be too empathetic.
Gillie: I can't say that one here ☺
Kesanko: I always ask the tough questions on council, the prudent ones. Always clarification.
McLean: I drive a 1947 Ford ½ ton and am a real people person.
Steinburg: I'm intuitive. Read people like crazy. I also build houses. Built my wife 3 over our lifetime. I'm into science and business and have degrees in science and finance.
Thiebaud: I think I'm a great whistler… but I am not (no secret)
Turton: In my early 20s, I used to do improve at Jagged Edge Theatre in Edmonton.
😉Pictures 😉

😉Top Tweets of The Night 😉