Podcast: Play in new window | Download | Embed
Subscribe: RSS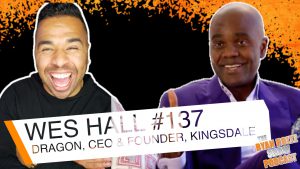 Ya mon! You know we had to have the newest dragon, Wes Hall stop by the show to tell you how we went from a tin shack in Jamaica all the way to Bay street and now Dragon's Den! Sit back, grab some curry chicken and a pineapple ting and be ready to UPGRADE your life! This episode has all the goodies! Check out the Black North Initiative.
Show notes:
01:15 – Wes Intro
02:28 – Wes morning routine
04:30 – Wes's motivation behind black equality
07:00 – Creation of Black North
09:40 – Code Switching
10:00 – Opportunities not by black people
13:30 – Wes's Biggest disappointments
13:50 – Wes's Dad's crabs in a bucket saying
17:05 – Telfor gave the first transaction to Kingsdale advisors
18:15 – How white folks named Wes The Fixer
19:45 – Dunking the ball, Wes wants to change the mindset
22:00 – How Wes Deals with Pain and coping
25:30 – Wes's humble beginnings in Toronto
28:00 – Wes's brother getting deported
28:30 – Wes's brother beaten to death
31:28 – Equality is having an opportunity, but you are responsible for the outcome
34:10 – Wes on death and prison (Don't invest in a bank account that you do not own)
36:00 – How Wes self starts and observes what is going around him
37:40 – How Wes is using this podcast to encourage people
39:00 – How does Wes react to bad things
41:35 – Black media in Canada
42:12 – Wes never spent money
43:28 – When Wes knew he had made it in terms of money
45:29 – Wes became wealthy at 40
47:40 – How Wes had a great relationship with money and his own value
48:20 – Value goes into your values
49:25 – Why black people undervalue themselves
50:34 – Why you should over-deliver
52:00 – Wes's advice on how YOU can find your own niche
54:20 – Why you should never settle for less
57:15 – Don't ASK For What You Want, DEMAND It
59:00 – Why Wes's Wife Got Mad At Him
1:00:49 – Never look back, move forward and look ahead
1:01:33 – Wes's approach to dragon's den
Episode sponsored by: Heartbeat Hot Sauce. Use Coupon Code "TEAMHOLTZ" to save 20% off at check-out!
TEXT ME so we can be more than just internet friends!
Join our mailing list to get great content and win cool stuff by clicking here.
Enjoyed this episode? Please leave a Review on iTunes here.
Want to get more exposure and put your business in front of the right audience? Inquire to see how you can advertise your company on the show here.
Watch our full video podcasts on YouTube here. Please also subscribe and click that bell to get notified!
→→→ CONNECT WITH ME ON SOCIAL MEDIA:  ←←←
▶︎ INSTAGRAM | https://www.instagram.com/RyanHoltz1
▶︎ YOUTUBE | https://www.youtube.com/ryanholtz
▶︎ TWITTER | https://twitter.com/ryanholtz1
▶︎ SNAPCHAT | https://snapchat.com/add/ryanholtz1
▶︎ LINKEDIN | https://www.linkedin.com/in/rholtz
▶︎ FACEBOOK | https://www.facebook.com/RyanPHoltz/
▶︎ ITUNES | https://itunes.apple.com/ca/podcast/the-ryan-holtz-show/id1167195878?mt=2
▶︎ WEBSITE | https://ryanholtz.ca/
▶︎ SPOTIFY | https://open.spotify.com/show/2rLdYsJKw5Vb6yoMoV2jhw?si=uxDfBei9SOWbLRcTU50T0Q