Podcast: Play in new window | Download | Embed
Subscribe: RSS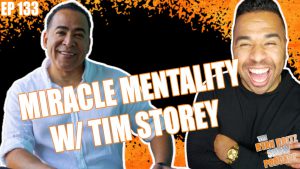 My friend Tim Storey, Life Coach to Oprah, Kanye, Robert Downey Jr & so many more stars returns to the show! Tim was on our show last year almost a year to the date and has been one of our most requested guests to come back! Tim & I chatted about his new book called The Miracle Mentality.
We also explored his newfound revelation into speaking publicly about his father whom he never knew and buried deep inside. Tim also shares the wisdom of the impacts of COVID-19 and the silver linings that can come from this. Tim also goes deep about his own life and finding peace. We also talk about ways we can cope with everyday struggles and the problems that they cause. You will love this episode and you will also find new ways to think and have your mindset become a miracle mentality. If you do the work, the world is truly yours!
Reach out to Tim and order his AMAZING book here.
Episode sponsored by: Heartbeat Hot Sauce. Use Coupon Code "TEAMHOLTZ" to save 20% off at check-out!
TEXT ME so we can be more than just internet friends!
Join our mailing list to get great content and win cool stuff by clicking here.
Enjoyed this episode? Please leave a Review on iTunes here.
Want to get more exposure and put your business in front of the right audience? Inquire to see how you can advertise your company on the show here.
Watch our full video podcasts on YouTube here. Please also subscribe and click that bell to get notified!
→→→ CONNECT WITH ME ON SOCIAL MEDIA:  ←←←
▶︎ INSTAGRAM | https://www.instagram.com/RyanHoltz1
▶︎ YOUTUBE | https://www.youtube.com/ryanholtz
▶︎ TWITTER | https://twitter.com/ryanholtz1
▶︎ SNAPCHAT | https://snapchat.com/add/ryanholtz1
▶︎ LINKEDIN | https://www.linkedin.com/in/rholtz
▶︎ FACEBOOK | https://www.facebook.com/RyanPHoltz/
▶︎ ITUNES | https://itunes.apple.com/ca/podcast/the-ryan-holtz-show/id1167195878?mt=2
▶︎ WEBSITE | https://ryanholtz.ca/
▶︎ SPOTIFY | https://open.spotify.com/show/2rLdYsJKw5Vb6yoMoV2jhw?si=uxDfBei9SOWbLRcTU50T0Q