Podcast: Play in new window | Download | Embed
Subscribe: RSS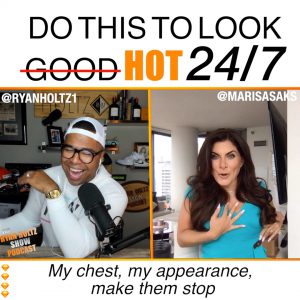 Fear of dating again?! Reality TV Star Marisa Saks of Millionaire Matchmaker and founder of lifestyle app Caviar drops by the show to give some golden dating tips on how to find love in this virtual world! Marisa and I chat about being a woman, looking attractive, and how to do some massive business in the tech space as a woman. This podcast covers dating, business, and how to keep a positive mindset when on your hustle. Enjoy this entertaining, but very tactical episode!
TEXT ME so we can be more than just internet friends!
Join our mailing list to get great content and win cool stuff by clicking here.
Enjoyed this episode? Please leave a Review on iTunes here.
Want to get more exposure and put your business in front of the right audience? Inquire to see how you can advertise your company on the show here.
Watch our full video podcasts on YouTube here. Please also subscribe and click that bell to get notified!
→→→ CONNECT WITH ME ON SOCIAL MEDIA:  ←←←
▶︎ INSTAGRAM | https://www.instagram.com/RyanHoltz1
▶︎ YOUTUBE | https://www.youtube.com/ryanholtz
▶︎ TWITTER | https://twitter.com/ryanholtz1
▶︎ SNAPCHAT | https://snapchat.com/add/ryanholtz1
▶︎ LINKEDIN | https://www.linkedin.com/in/rholtz
▶︎ FACEBOOK | https://www.facebook.com/RyanPHoltz/
▶︎ ITUNES | https://itunes.apple.com/ca/podcast/the-ryan-holtz-show/id1167195878?mt=2
▶︎ WEBSITE | https://ryanholtz.ca/
▶︎ SPOTIFY | https://open.spotify.com/show/2rLdYsJKw5Vb6yoMoV2jhw?si=uxDfBei9SOWbLRcTU50T0Q