Podcast: Play in new window | Download | Embed
Subscribe: RSS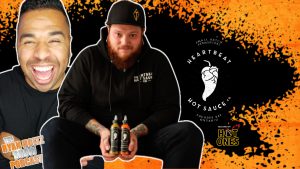 Could you imagine creating a hot sauce that is loved by celebrities like Harry Potter aka Daniel Radcliffe, Jeff Goldbloom, Whiz Khalifa and so many more?! Well, Heartbeat Hot Sauce Co-Founder, Al Bourbouhakis did and in this episode walks us through a bit of his journey from Sous Chef to the founder of one of the biggest hot sauce brands known. Even Hot Ones, a massive show on YouTube picked up their hot sauce for their highly curated hot wings show.
Enjoy this episode as it will walk you through how to have a dream, execute on it, and then further make it into something you could only imagine! Hard work, focus and the ability to handle rejection are all apart of this story!
The episode is sponsored by: Heartbeat Hot Sauce.
Enjoyed this episode? Please leave a Review on iTunes here.
Want to get more exposure and put your business in front of the right audience? Inquire to see how you can advertise your company on the show here.
Watch our full video podcasts on YouTube here. Please also subscribe and click that bell to get notified!
→→→ CONNECT WITH ME ON SOCIAL MEDIA:  ←←←
▶︎ INSTAGRAM | https://www.instagram.com/RyanHoltz1
▶︎ YOUTUBE | https://www.youtube.com/ryanholtz
▶︎ TWITTER | https://twitter.com/ryanholtz1
▶︎ SNAPCHAT | https://snapchat.com/add/ryanholtz1
▶︎ LINKEDIN | https://www.linkedin.com/in/rholtz
▶︎ FACEBOOK | https://www.facebook.com/RyanPHoltz/
▶︎ ITUNES | https://itunes.apple.com/ca/podcast/the-ryan-holtz-show/id1167195878?mt=2
▶︎ WEBSITE | https://ryanholtz.ca/
▶︎ SPOTIFY | https://open.spotify.com/show/2rLdYsJKw5Vb6yoMoV2jhw?si=uxDfBei9SOWbLRcTU50T0Q