Podcast: Play in new window | Download | Embed
Subscribe: RSS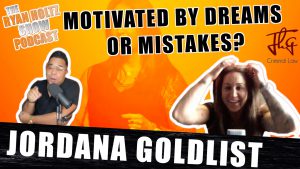 Jordana Goldlist, esteemed Toronto Criminal Defense Lawyer drops by the show to talk about being motivated by dreams or mistakes. As many of you have been following the show, Jordana is a regular guest, but also a contributor and sponsor. Jordana's expertise is second to none in her field of practice. What makes Jordana so unique is her background and come up. Jordana struggled with addiction and was the very clients she now represents. Jordana will be coming on the show to bestow her wisdom, not only in life and success, but also in the practice of criminal law.
Enjoyed this episode? Please leave a Review on iTunes here.
On this episode, you will benefit from:
– Hearing about how to decide whether you are the coach, player or commentator
– How massive mistakes can be turned into your biggest assets
– How you can kick addiction and make better choices
– How to celebrate your wins, but respect your losses
– How to stay motivated when the journey becomes dark
– How to reach your full potential
– And of course, just some fun and honest banter amongst Jordana and myself
This episode is sponsored by JHG Criminal Law.
Reach Jordana on Instagram here.
→→→ CONNECT WITH ME ON SOCIAL MEDIA: ←←←
▶︎ INSTAGRAM | https://www.instagram.com/RyanHoltz1
▶︎ TWITTER | https://twitter.com/ryanholtz1
▶︎ SNAPCHAT | https://snapchat.com/add/ryanholtz1
▶︎ LINKEDIN | https://www.linkedin.com/in/rholtz
▶︎ FACEBOOK | https://www.facebook.com/RyanPHoltz/
▶︎ ITUNES | https://itunes.apple.com/ca/podcast/the-ryan-holtz-show/id1167195878?mt=2
▶︎ WEBSITE | https://ryanholtz.ca/