Podcast: Play in new window | Download | Embed
Subscribe: RSS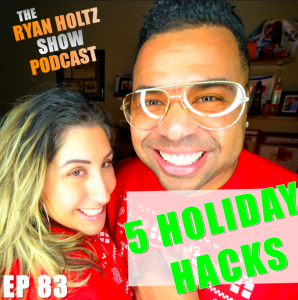 Nora Holtz aka my wife aka FoodForLove99 drops by to drop 5 holiday hacks to make your holiday season stress free! The holidays can prove to be a stressful and also sad time for many. Death, loss, financial troubles are just a few reasons why people tend to get down or sad around the holiday season. This does not have to be the case though! We are here for you, no matter what! Send us a text 780.218.5899 if you simply need a cheerful message back!
5 Holiday Hacks:
1. Eliminate negative people
2. Know who you are cooking for
3. Prep in advance
4. Have fun
5. Have 0 expectations
6. Keep your feet good!
Also, as a reminder, please vote for us once per day as we are a finalist for best black podcaster in Canada by the magazine ByBlacks. Vote Here.
→→→ CONNECT WITH ME ON SOCIAL MEDIA: ←←←
▶︎ INSTAGRAM | https://www.instagram.com/RyanHoltz1
▶︎ TWITTER | https://twitter.com/ryanholtz1
▶︎ SNAPCHAT | https://snapchat.com/add/ryanholtz1
▶︎ LINKEDIN | https://www.linkedin.com/in/rholtz
▶︎ FACEBOOK | https://www.facebook.com/RyanPHoltz/
▶︎ ITUNES | https://itunes.apple.com/ca/podcast/the-ryan-holtz-show/id1167195878?mt=2
▶︎ WEBSITE | https://ryanholtz.ca/