Podcast: Play in new window | Download | Embed
Subscribe: RSS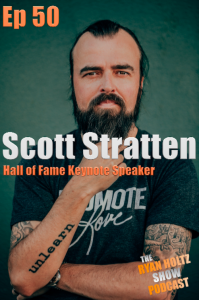 In this episode of The Ryan Holtz Show, I chat with Scott Stratten, the evocative unmarketing and absolute force in the world of marketing, speaking and change. I met Scott Year's back at a conference that we both spoke at and our conversation in the green room really changed the game for me. I am humbled to have him on the show! Thank you Scott!
Show Notes
1. Importance of appropriating your resources when it comes to producing content.
2. Content is important and your REPUTATION. Make it good.
3. Consistency with content is important and conditions your audience to a frequency level.
4. Why Scott and Alison started the podcast and love UNmarketing.
5. Why Scott stopped looking at podcast download numbers and book sales.
6. Scott has always got paid to observe and give his opinion. He is a verbal columnist. "What do I think is about something?"
7. Importance of understanding community. Do not be afraid to have an opinion. Do not be scared to have an opinion. Nobody really gets attracted to people who sit on the fence. (17:50) Polarization will repel people and make them go both ways.
8. The importance of not flapping your gums and being good at listening, observing and being a student of your opinion.
9. Importance of staying relevant to maintaining a speaking career full of longevity.
10. Most marketers do not like marketing for other companies.
11. Frustrations of being hired to market for a company and then have that company tell you what to do.
12. Marketing and branding recall takes time. A strategy is not a plan on a day to day basis. It should be a quarterly/yearly vision.
13. Testing content in a A/B format helps to enhance a strategy that emphasizes your brand.
14. Doing anything to provide for your family. Importance of letting go of your ego and be of service.
15. Being authentic is a privilege but with a filter.
Scott's Bio
Scott Stratten is the President of UnMarketing. He has written five best-selling business books and was formerly a music industry marketer, National Sales Training Manager, and a College Professor. He ran one of the most successful viral video agencies in the world for nearly a decade before solely focusing on speaking at events for companies like Walmart, Pepsi, Adobe, IBM, Microsoft, Cirque du Soleil and Saks Fifth Avenue when they need help navigating their way through the landscape of business disruption.
Check out Scott here.
*** CONNECT WITH ME ON SOCIAL MEDIA ***
Instagram | https://www.instagram.com/RyanHoltz1
Instagram | https://www.instagram.com/ryanholtzshowpodcast/
Twitter | https://twitter.com/ryanholtz1
Snapchat | https://snapchat.com/add/ryanholtz1
LinkedIn | https://www.linkedin.com/in/rholtz
Facebook | https://www.facebook.com/RyanPHoltz/
iTunes | https://itunes.apple.com/ca/podcast/the-ryan-holtz-show/id1167195878?mt=2