Podcast: Play in new window | Download | Embed
Subscribe: RSS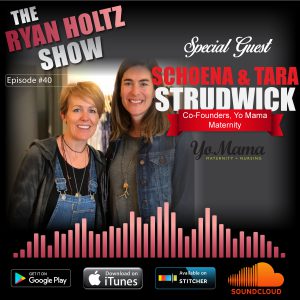 Rest In Peace Anthony Bourdain. You are the realist.
In this episode, I have Schoena & Tara Strudwick from Yo Mama Maternity on the show! I was super pumped to chat with these ladies about the nuances of pregnancy, motherhood, being a #GirlBoss and life. We opened up this podcast with heavy hearts as we lost an amazing human being by the name of Anthony Bourdain. We chatted about the subject of mental health, self awareness and how we can all help one another to be kind and loving to one another.
Schoena and Tara are truly amazing as they are Mom's, wives and business women. This is absolutely amazing. This podcast will blow you away as it is packed with business, personal and marketing insights into the crazy world of retail and maternity clothing.
Mom we love you. Dad we love you. If you need an ear, we are here.
Much love!
Reach out to Yo Mama on Instagram.
Join Our Facebook Community!
Facebook Group | https://www.facebook.com/groups/2051291358485834/
*** CONNECT WITH ME ON SOCIAL MEDIA ***
Instagram | https://www.instagram.com/RyanHoltz1
Instagram | https://www.instagram.com/ryanholtzshowpodcast/
Twitter | https://twitter.com/ryanholtz1
Snapchat | https://snapchat.com/add/ryanholtz1
LinkedIn | https://www.linkedin.com/in/rholtz
Facebook | https://www.facebook.com/TheRyanHoltzShowPodcast/