Podcast: Play in new window | Download | Embed
Subscribe: RSS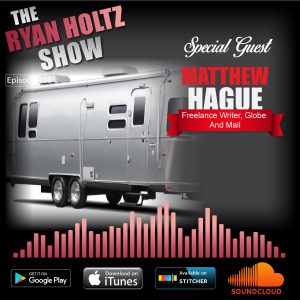 In this episode, I have the pleasure of being interviewed by Globe and Mail writer, Matthew Hague about Airstream's more affordable redesigned RV. In this interview, I was the interviewee, but this episode gave some great insights on the branding, functionality and popularity of an iconic RV, such as the Airstream.
Towards the last few minutes of the interview, we also got to chat about Matthew's thoughts on the disruption of social media and digital impact on journalism. Since starting this podcast, I have had to shift my mindset into more of a "media" or "journalistic" perspective which has honestly been very fascinating. I had an amazing time on this episode and definitely thought about the Airstream! Make sure to tune in to hear Matt's amazing and unique perspective.
As always, please drop us a rating on iTunes, Google Play or Stitcher 🙂
Join Our Facebook Community!
Facebook Group | https://www.facebook.com/groups/2051291358485834/
**** CONNECT WITH ME ON SOCIAL MEDIA ****
Instagram | https://www.instagram.com/RyanHoltz1
Instagram | https://www.instagram.com/ryanholtzshowpodcast/
Twitter | https://twitter.com/ryanholtz1
Snapchat | https://snapchat.com/add/ryanholtz1
LinkedIn | https://www.linkedin.com/in/rholtz
Facebook | https://www.facebook.com/TheRyanHoltzShowPodcast/