Podcast: Play in new window | Download | Embed
Subscribe: RSS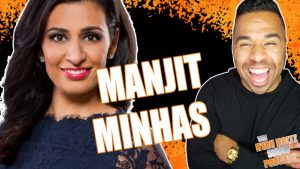 Manjit Minhas is 40 years old and was born and raised in Calgary, Alberta. This Petroleum Engineering student turned beer baroness is a Dragon on the hit TV show Dragons' Den on CBC in its 15th season (for which she has been on for 6 seasons/years). Manjit leads a privately owned empire that had revenues in excess of $220 million last year.
Manjit is the co-founder and co-owner of the Minhas Brewery, Distillery, and Winery. She started her companies at the ripe age of 19 in Alberta, when she launched her spirits in 1999 and her beers in 2002 in Alberta with her business partner and brother, Ravinder Minhas. Together with $10,000 they gave the big boys a run for their money, thereby becoming the first successful company to enter the Canadian beer industry in many decades. Currently, she has over 90 brands of beers, spirits, liqueurs and wines. Her products are sold in 5 provinces (Ontario, Alberta, Saskatchewan, Manitoba and British Columbia), as well as 47 states throughout the USA and 16 other countries.
Episode sponsored by: Heartbeat Hot Sauce. Use Coupon Code "TEAMHOLTZ" to save 20% off at check-out!
TEXT ME so we can be more than just internet friends!
Join our mailing list to get great content and win cool stuff by clicking here.
Enjoyed this episode? Please leave a Review on iTunes here.
Want to get more exposure and put your business in front of the right audience? Inquire to see how you can advertise your company on the show here.
Watch our full video podcasts on YouTube here. Please also subscribe and click that bell to get notified!
→→→ CONNECT WITH ME ON SOCIAL MEDIA:  ←←←
▶︎ INSTAGRAM | https://www.instagram.com/RyanHoltz1
▶︎ YOUTUBE | https://www.youtube.com/ryanholtz
▶︎ TWITTER | https://twitter.com/ryanholtz1
▶︎ SNAPCHAT | https://snapchat.com/add/ryanholtz1
▶︎ LINKEDIN | https://www.linkedin.com/in/rholtz
▶︎ FACEBOOK | https://www.facebook.com/RyanPHoltz/
▶︎ ITUNES | https://itunes.apple.com/ca/podcast/the-ryan-holtz-show/id1167195878?mt=2
▶︎ WEBSITE | https://ryanholtz.ca/
▶︎ SPOTIFY | https://open.spotify.com/show/2rLdYsJKw5Vb6yoMoV2jhw?si=uxDfBei9SOWbLRcTU50T0Q