Podcast: Play in new window | Download | Embed
Subscribe: RSS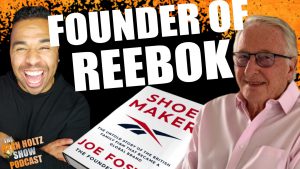 Founder of Reebok, Joe Foster drops by the show to chat about how he created a $4 BILLION dollar company by building a brand that made retailers want to carry his product. Joe joined me via Skype from his home in France to talk about the journey of founding Reebok all the way to writing his TELL-ALL book titled "Shoe Maker". You can pick up a copy of his book here.
Shownotes:
1:00 – intro of Joe Foster, founder of Reebok
2:40 – why Joe stayed behind the brand
3:38 – Joe's book "The Shoe Maker"
6:00 – Why Joe decided to write a book now
10:15 – Where Reebok came from
14:00 – How Joe would use social media to build a brand in 2021
15:45 – Why podcasts are a business and taking over normal media
19:10 – Reebok's sponsorship of Cardi B
20:00 – How Reebok picks their influencers
22:00 – Reebok and Jane Fonda
22:20 – How Covid had moved society 10 years forward
24:45 – Would Joe Foster hedge his bet on passion or curiosity?
28:00 – Passion is what is needed
29:20 – Why Joe substituted his poor sales skills with a great story brand to help attract customers
31:19 – He needed to answer the question: WHY Reebok?
35:04 – What makes Joe Foster more special than any other human?
36:40 – Luck vs being able to see a great opportunity (LUCK)
39:20 – 1979 EDMONTON COMMONwealth games was a big break
41:59 – What makes the world small
42:20 – Only a small fraction of the people in the world make the decisions that impact the world
Want to Donate or support the production of the Ryan Holtz Show Podcast?
Become a patron
PayPal Donation
Want to get more exposure and put your business in front of the right audience? Inquire to see how you can advertise your company on the show here.
Watch our full video podcasts on YouTube here. Please also subscribe and click that bell to get notified!
→→→ CONNECT WITH ME ON SOCIAL MEDIA:  ←←←
▶︎ INSTAGRAM | https://www.instagram.com/RyanHoltz1
▶︎ YOUTUBE | https://www.youtube.com/ryanholtz
▶︎ TWITTER | https://twitter.com/ryanholtz1
▶︎ SNAPCHAT | https://snapchat.com/add/ryanholtz1
▶︎ LINKEDIN | https://www.linkedin.com/in/rholtz
▶︎ FACEBOOK | https://www.facebook.com/RyanPHoltz/
▶︎ ITUNES | https://itunes.apple.com/ca/podcast/the-ryan-holtz-show/id1167195878?mt=2
▶︎ WEBSITE | https://ryanholtz.ca/
▶︎ SPOTIFY | https://open.spotify.com/show/2rLdYsJKw5Vb6yoMoV2jhw?si=uxDfBei9SOWbLRcTU50T0Q