Podcast: Play in new window | Download | Embed
Subscribe: RSS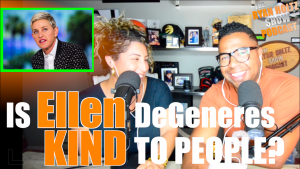 Ellen DeGeneres ends off her shows usually by saying "Be kind to one another". But now it seems that this could have just been a little blowing off smoke. Recent allegations that have swept the internet from multiple staffers and guests elude to the fact that Ellen was not the nicest person to be around. Accusations from having her staff tell people not to look at her all the way to her toxicity have many people wondering just how nice she really is. Well, I am not going to lie, I am a huge fan of Ellen, but with all these things swirling, I may have to audit how nice she really is. Mrs. Holtz joins me on the show to talk about all of this tea! Enjoy and as always, reach out to me on social media and let me know what you think!
Much love,
#TeamHoltz
Want to Donate or support the production of the Ryan Holtz Show Podcast?
Become a patron
PayPal Donation
Enjoyed this episode? Please leave a Review on iTunes here.
Want to get more exposure and put your business in front of the right audience? Inquire to see how you can advertise your company on the show here.
Watch our full video podcasts on YouTube here. Please also subscribe and click that bell to get notified!
Mrs Nora Holtz on Instagram.
→→→ CONNECT WITH ME ON SOCIAL MEDIA: ←←←
▶︎ INSTAGRAM | https://www.instagram.com/RyanHoltz1
▶︎ YOUTUBE | https://www.youtube.com/ryanholtz
▶︎ TWITTER | https://twitter.com/ryanholtz1
▶︎ SNAPCHAT | https://snapchat.com/add/ryanholtz1
▶︎ LINKEDIN | https://www.linkedin.com/in/rholtz
▶︎ FACEBOOK | https://www.facebook.com/RyanPHoltz/
▶︎ ITUNES | https://itunes.apple.com/ca/podcast/the-ryan-holtz-show/id1167195878?mt=2
▶︎ WEBSITE | https://ryanholtz.ca/
▶︎ SPOTIFY | https://open.spotify.com/show/2rLdYsJKw5Vb6yoMoV2jhw?si=uxDfBei9SOWbLRcTU50T0Q