Podcast: Play in new window | Download | Embed
Subscribe: RSS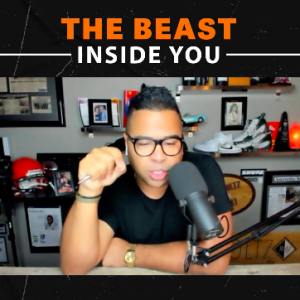 The notion that we have time to do just exist and not truly live is astounding! I was asked this great question in an interview of what I thought about cemeteries. Now, I do agree that it was a bit of a morbid question as I am super focused in on the NOW to ensure I reach maximum capacity.
You my friend might be going through a change, you might be wondering why the heck you just made the decision that you did? You may be questioning your very life at this moment. But I promise that there is a beast inside you. You just gotta give it permission to let itself out.
I want every time you doubt yourself, to go and listen to this episode as it is just a few minutes in length, but will help realign your goals and your thoughts. If nobody said this to you today, yet, please allow me to be the first. YOU ARE A BEAST, Now let's go get it!!!!!
Text Me so we can be more than just internet friends!
Join our mailing list to get great content and win cool stuff by clicking here.
Enjoyed this episode? Please leave a review on iTunes here.
Want to get more exposure and put your business in front of the right audience?
Inquire to see how you can advertise your company on the show, click here.
Watch our full video podcasts on YouTube here. Please also subscribe and click that bell to get notified!
→→→ CONNECT WITH ME ON SOCIAL MEDIA:  ←←←
▶︎ INSTAGRAM | https://www.instagram.com/RyanHoltz1
▶︎ TIKTOK | https://vm.tiktok.com/ZM8CF6LKD/
▶︎ YOUTUBE | https://www.youtube.com/ryanholtz
▶︎ TWITTER | https://twitter.com/ryanholtz1
▶︎ SNAPCHAT | https://snapchat.com/add/ryanholtz1
▶︎ LINKEDIN | https://www.linkedin.com/in/rholtz
▶︎ FACEBOOK | https://www.facebook.com/RyanPHoltz/
▶︎ ITUNES | https://itunes.apple.com/ca/podcast/the-ryan-holtz-show/id1167195878?mt=2
▶︎ WEBSITE | https://ryanholtz.ca/
▶︎ SPOTIFY | https://open.spotify.com/show/2rLdYsJKw5Vb6yoMoV2jhw?si=uxDfBei9SOWbLRcTU50T0Q