Podcast: Play in new window | Download | Embed
Subscribe: RSS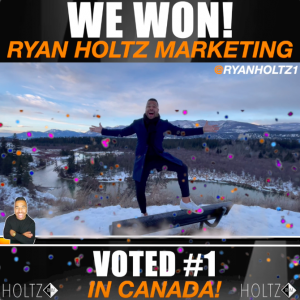 Because of you, we WON best marketing agency in Canada! We were voted number one in the ByBlacks People's Choice Awards. Thank you for all your support, truly!
In this episode we also chat about why decluttering your life can help you become more productive. I talk about the 3 D's:
Do it
Delegate it
Destroy it
Wishing you all a great week ahead!
Text Me so we can be more than just internet friends!

Book A Brand Jam With Ryan

Join our mailing list to get great content and win cool stuff by clicking here.

Enjoyed this episode? Please leave a review on iTunes here.

Want to get more exposure and put your business in front of the right audience?
Inquire to see how you can advertise your company on the show, click here.

Watch our full video podcasts on YouTube here. Please also subscribe and click that bell to get notified!

→→→ CONNECT WITH ME ON SOCIAL MEDIA:  ←←←
▶︎ INSTAGRAM | https://www.instagram.com/RyanHoltz1
▶︎ TIKTOK | https://vm.tiktok.com/ZM8CF6LKD/
▶︎ YOUTUBE | https://www.youtube.com/ryanholtz
▶︎ TWITTER | https://twitter.com/ryanholtz1
▶︎ SNAPCHAT | https://snapchat.com/add/ryanholtz1
▶︎ LINKEDIN | https://www.linkedin.com/in/rholtz
▶︎ FACEBOOK | https://www.facebook.com/RyanPHoltz/
▶︎ ITUNES | https://itunes.apple.com/ca/podcast/the-ryan-holtz-show/id1167195878?mt=2
▶︎ WEBSITE | https://ryanholtz.ca/
▶︎ SPOTIFY | https://open.spotify.com/show/2rLdYsJKw5Vb6yoMoV2jhw?si=uxDfBei9SOWbLRcTU50T0Q