Podcast: Play in new window | Download | Embed
Subscribe: RSS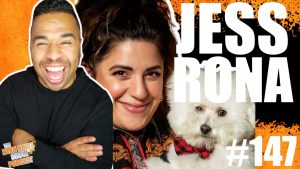 "Jess Rona is to dogs as
Vidal Sassoon is to the bob cut."
— Katy Perry
Jess found me on social media through my interview that I did on Amy Porterfield's podcast and as soon as we chatted, I had to have her on! Jess is awesome!
Episode sponsored by: Heartbeat Hot Sauce and Motion Grey Stand Up Desks.
TEXT ME so we can be more than just internet friends!
Join our mailing list to get great content and win cool stuff by clicking here.
Enjoyed this episode? Please leave a Review on iTunes here.
Want to get more exposure and put your business in front of the right audience? Inquire to see how you can advertise your company on the show here.
Watch our full video podcasts on YouTube here. Please also subscribe and click that bell to get notified!
Bio:
Jess Rona is an actress and comedian that has turned her day job as a dog groomer into a successful and adorable brand called Jess Rona Grooming.
Working as both groomer and filmmaker, Rona has developed a cult following on social who stop scrolling and double-tap every time she releases one of her signature musical slow-mo blowout videos. Last year she combined three of her favorite past times; photography, grooming, and comedy to write and create her first book, "Groomed" (Knock Knock).
Most recently, Jess worked with Bissel to create a docu-style branded content series. When she's not giving blowouts to Katy Perry's poodle, she directs shorts, commercials, and music videos, including one for one of her favorite bands Tegan and Sara.
As an actor, Jess has appeared on New Girl (FOX), One Mississippi (Amazon Prime) and Hollywood Darlings (POP TV). Jess lives in Los Angeles with her husband, actor Eric Edelstein, and their two rescue pups Chupie and Meemu.
Connect with Jess. 🙂
→→→ CONNECT WITH ME ON SOCIAL MEDIA:  ←←←
▶︎ INSTAGRAM | https://www.instagram.com/RyanHoltz1
▶︎ YOUTUBE | https://www.youtube.com/ryanholtz
▶︎ TWITTER | https://twitter.com/ryanholtz1
▶︎ SNAPCHAT | https://snapchat.com/add/ryanholtz1
▶︎ LINKEDIN | https://www.linkedin.com/in/rholtz
▶︎ FACEBOOK | https://www.facebook.com/RyanPHoltz/
▶︎ ITUNES | https://itunes.apple.com/ca/podcast/the-ryan-holtz-show/id1167195878?mt=2
▶︎ WEBSITE | https://ryanholtz.ca/
▶︎ SPOTIFY | https://open.spotify.com/show/2rLdYsJKw5Vb6yoMoV2jhw?si=uxDfBei9SOWbLRcTU50T0Q