Podcast: Play in new window | Download | Embed
Subscribe: RSS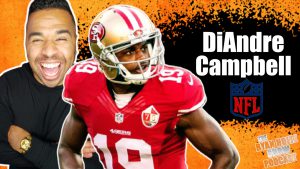 NFL Player DiAndre Campbell drops by the show to teach us what it really takes to make it to the NFL. We often spend our whole lives never reaching our FULL capacity, but to truly be the best at your craft, you will be required to go places inside yourself that you did not even know existed! DiAndre talks about his journey to the NFL and eventually opening up his own business that focuses on helping people dig deep physically, spiritually, and emotionally! He also chats about how his Dad played a huge role in always encouraging him to do his best! Sit back, grab a football and enjoy this clinic on how to raise your expectations of yourself and truly reach full capacity.
Connect with DiAndre on Instagram here.
Episode sponsored by: Heartbeat Hot Sauce. Use Coupon Code "TEAMHOLTZ" to save 20% off at check-out!
TEXT ME so we can be more than just internet friends!
Join our mailing list to get great content and win cool stuff by clicking here.
Enjoyed this episode? Please leave a Review on iTunes here.
Want to get more exposure and put your business in front of the right audience? Inquire to see how you can advertise your company on the show here.
Watch our full video podcasts on YouTube here. Please also subscribe and click that bell to get notified!
→→→ CONNECT WITH ME ON SOCIAL MEDIA:  ←←←
▶︎ INSTAGRAM | https://www.instagram.com/RyanHoltz1
▶︎ YOUTUBE | https://www.youtube.com/ryanholtz
▶︎ TWITTER | https://twitter.com/ryanholtz1
▶︎ SNAPCHAT | https://snapchat.com/add/ryanholtz1
▶︎ LINKEDIN | https://www.linkedin.com/in/rholtz
▶︎ FACEBOOK | https://www.facebook.com/RyanPHoltz/
▶︎ ITUNES | https://itunes.apple.com/ca/podcast/the-ryan-holtz-show/id1167195878?mt=2
▶︎ WEBSITE | https://ryanholtz.ca/
▶︎ SPOTIFY | https://open.spotify.com/show/2rLdYsJKw5Vb6yoMoV2jhw?si=uxDfBei9SOWbLRcTU50T0Q