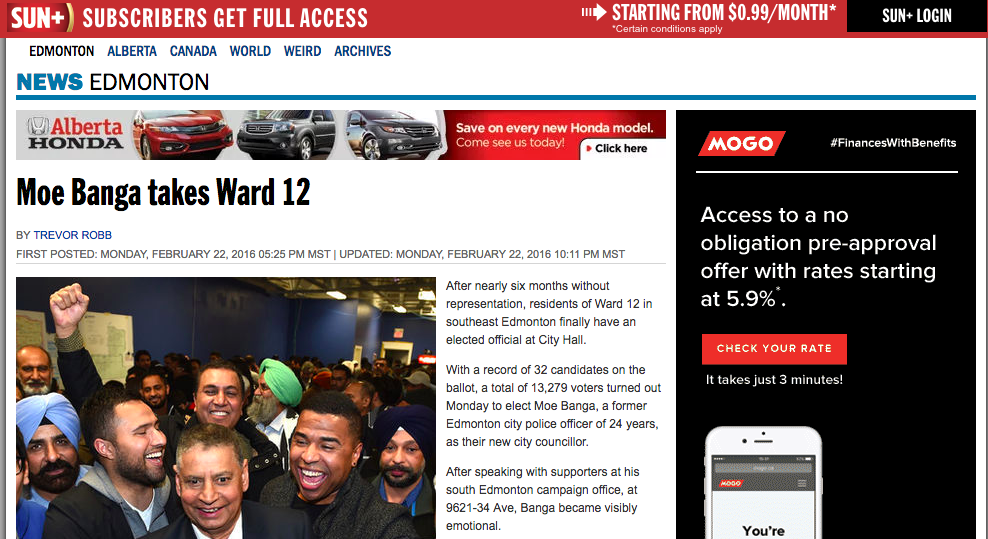 I delayed writing this post until a certain amount of time had past after the election as I felt it would be more appropriate. In the City of Edmonton's most recent ward 12 by-election, my company had the pleasure of assisting on the Moe Banga digital marketing campaign where we were extremely successful. When getting the call from Moe's daughter to come and give a presentation on how we could amplify his current digital efforts, I thought to myself "this could be really fun and interesting!". The minute I shook hands with Moe, I seen his passion for wanting to win and serve the people of Edmonton as he had been doing for 20 plus years as a Edmonton Police detective. The first thought that came to mind is "how can I get the social media voter to relate to a middle aged, police detective?" The answer was simple, let's create a campaign that is all about the people by curating small pieces of content that make the voter feel like Moe is literally a gate way for them to better their own city. I guess, I just wanted the people of ward 12 to take responsibility and accountability for their own community and look at Moe as a tool they can use to do that.
In marketing, we are always looking for strategic ways to be able to figure out what a consumer wants, how they prefer to communicate and most of all the message we need to show them, without annoying them. Most of our marketing clients have products or professional services which we can pull data from and wrap our digital and social media campaigns around to ultimately increase the bottom line.
What we learned from assisting Moe Banga's digital marketing campaign is that grass roots initiatives are so powerful as they literally are led by the "people" for the "people". Moe put together an amazing team, starting with his campaign manager and spreading to the rest of the amazing group! This political grass roots campaign was fun, amazing and highly competitive as there was 30 plus other candidates running for the same seat. This was an amazing challenge and an absolute pleasure to be apart of!
Read the full Edmonton Sun article by Trevor Robb here.
I kindly thank City of Edmonton councillor Moe Banga for his video testimonial.
Please note that this post or video testimonial from Moe Banga is NOT in anyway endorsed by or affiliated with the City of Edmonton or any of it's officials. This testimonial is solely for the purpose of the work Ryan Holtz Marketing Consulting & Training did on Moe Banga's ward 12 by-election campaign.