Podcast: Play in new window | Download | Embed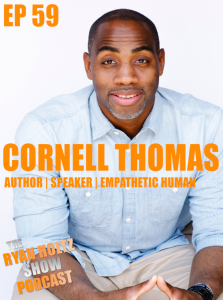 In this episode of The Ryan Holtz Show Podcast, I chop it up with my man Cornell Thomas. Cornell is a human like not other with a story that is compelling and true form to raw life. In this episode, we chat about how Cornell went from almost playing pro basketball…actually just 72 hours away and then POP! Cornell had an injury that changed his whole trajectory and used this to learn empathy, fierceness and become a student of life.
Cornell's Bio (Written From His Perspective)
I am the youngest son of Bobby and Tina Thomas. That sentence is very important in regards to who I am. If not for my parents I wouldn't be the man you see today. My father passed away when I was just three years old, and although my time with him was brief I have learned through others the amazing legacy that he left behind, as a police officer and community leader.
My fathers passing forced my mom to become our everything. She was now our main provider, mother, and life educator. She was forced to become an expert problem solver, and that skill was passed down to her children.
My mom raised us on the adage, everything happens for a reason", and that one lesson out of the myriads of others she has taught me was never forgotten. It's what I remembered when I suffered a career ending basketball injury, (right before going to play professional basketball) and the first thing I think about when any adversity comes my way.
I am a global speaker, multiple title author, mindset coach, team builder, and corporate trainer. But more importantly than any of those titles I'm a husband and father to my son Bryce (5) and my daughter Niya (3).
*** CONNECT WITH ME ON SOCIAL MEDIA ***
Instagram | https://www.instagram.com/RyanHoltz1
Instagram | https://www.instagram.com/ryanholtzshowpodcast/
Twitter | https://twitter.com/ryanholtz1
Snapchat | https://snapchat.com/add/ryanholtz1
LinkedIn | https://www.linkedin.com/in/rholtz
Facebook | https://www.facebook.com/TheRyanHoltzShowPodcast/
iTunes | https://itunes.apple.com/ca/podcast/the-ryan-holtz-show/id1167195878?mt=2
Podcast: Play in new window | Download | Embed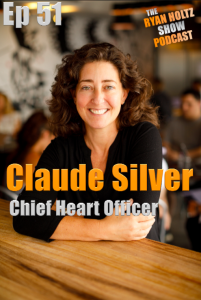 In this episode, the magnificent Chief Heart Officer, Claude Silver of Vaynermedia drops by to chop it up! This episode is jam packed with tons of goodies and I did my best to unpack some good nuggets and value. Claude was hand picked by Gary Vaynerchuk to lead with heart and scale what in Gary's words will be the biggest human machine ever!
Show Notes:
1. We talk about Claude's past with tennis and narcotics
2. Why it takes being a little "gangster" to really pursue your dreams with heart
3. What the corporate culture and onboarding process is like at Vaynermedia
4. Why "tenderness" and "empathy" are so important in order to lead staff and people to a good place
5. What human resources will look like in the near future
6. How Claude discovered herself at a young age and figured out what and how she wanted to with her life
7. What people who work for a corporation can do if they simply do not feel good about their position at work
8. Importance of seeing the best in your career and perhaps trying to find passion through hobbies or something on the side
9. Why taureans are grounded in everything that they do
Claude's Bio
As VaynerMedia's first Chief Heart Officer, Claude Silver unlocks employees' potential by forging human-to-human connection, creating cultures of belonging, empowers teams to be purpose-driven, efficient, and strong, and infuses the agency with empathy, humanity, and joy.
Claude's unique perspective on servant leadership and team-building comes both from her training in Positive Psychology and her experience in talent management, leadership development, coaching, workplace culture, and people operations for over 800+ employees across VaynerX. She also founded and ran an outdoor adventure & surf company in San Francisco where she was in the cold Pacific Ocean coaching 250 days a year.
Prior to VaynerMedia, Claude held leadership positions at Publicis London, J.Walter Thompson (London & San Francisco), and Organic San Francisco. She and her partner live in NYC with their newborn baby.
*** CONNECT WITH ME ON SOCIAL MEDIA ***
Instagram | https://www.instagram.com/RyanHoltz1
Instagram | https://www.instagram.com/ryanholtzshowpodcast/
Twitter | https://twitter.com/ryanholtz1
Snapchat | https://snapchat.com/add/ryanholtz1
LinkedIn | https://www.linkedin.com/in/rholtz
Facebook | https://www.facebook.com/TheRyanHoltzShowPodcast/
iTunes | https://itunes.apple.com/ca/podcast/the-ryan-holtz-show/id1167195878?mt=2